Whatever differences we may have with our southern neighbours, imaginary or otherwise, there is no denying that as a destination for a short holiday with kids, ignoring the ridiculous exchange rate, Singapore actually has quite a lot to offer in terms of attractions. From whore lined streets, in Geylang, (okay, that wasn't for kids), to large ferris wheels....
Courtesy of my generous uncle, whose son's nuptials we were attending in the island republic, we got to sit in the famous Singapore Flyer....thankfully when we did, for a few days later, the thing konked out, and people were STUCK on it for up to 6 hours. I wonder what it would be like peeing out the window. You'd expect something like that to happen to the Eye of Malaysia, when it was going up and down and around lake titiwangsa, but to their credit, there was no incidences that I am aware of. But Singapore? EFFICIENT old Singapore?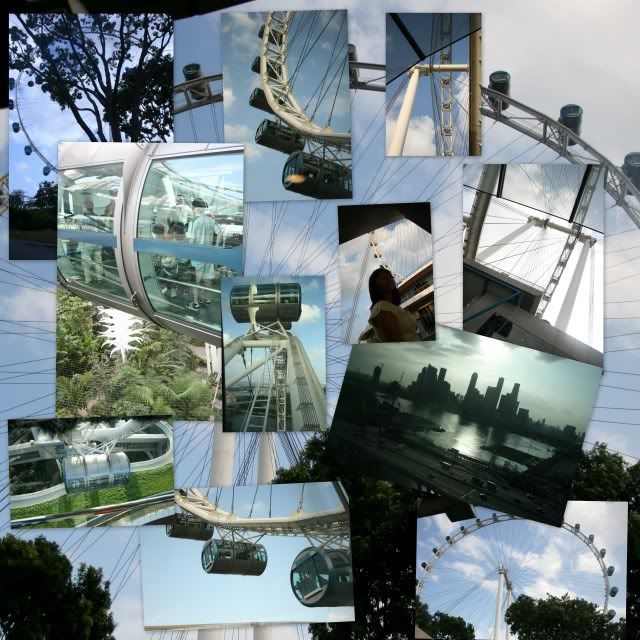 If you don't have to pay, I would highly recommend the ride. It affords fantastic panoramic views of the island, and rumour has it you can even see Malaysia, Tanah Air Gemilangku, on a clear day. Either the island is damn tiny, OR, they simply point to some under developed part left on the island and label it, "Malaysia". At S$30 per head, or thereabouts, it would have cost me and the brood a small fortune to have gone on the ferris wheel.

The other place of interest that we went (sans relatives) was the Singapore Zoo. It was a toss up between the zoo and underwater world in Sentosa, as MY main objective was to see a dugong. When I heard that you could see your dugong, (actually they were manatees, close relatives of the dugong) and feed it too, at the zoo, I was sold. Actually, I misheard. You can't feed it, but you can watch it being fed.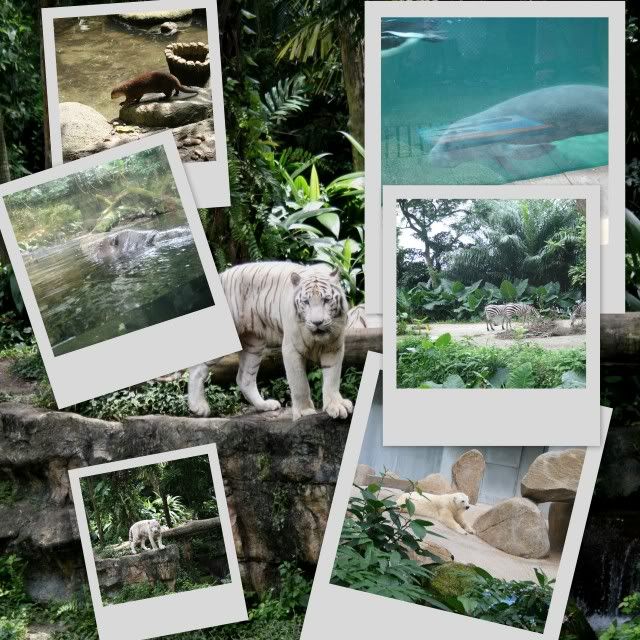 Apart from being very well nourished, unlike their Malaysian counterparts, (I bet you while queueing in animal heaven, waiting for their respective postings on earth, animals must groan loudly when they get posted to Zoo Negara..... must be like Msians being posted to ....dare I say it? S--------?, the zoo animals are also very well trained. On cue, they would strike a pose for you. Which makes me wonder if they aren't National Service trainees in costume....
When all the rellies arriving for the wedding had arrived, Uncle brought us, after lovely pre dinner drinks with gammon ham and cheeses, at the house, to Jumbo at Dempsey Road. Good thing we didn;t eat at Jumbo the night before with Hairy Berry. The last time I went to Dempsey, it was a few abandoned army barracks, with hints of potential, and a smattering of trendy wine bars. Now, my goodness, its changed beyond recognition!!!
Miraculously managing to find a carpark, and being very wary, having just been fined the previous day for not displaying those ubiquitous coupons, at the dinner place with Hairy Berry, ($30 for no coupon...actually I thought the whole island was controlled electronically via the VEP card, hence didn't occur to me to look for coupons), I made my way through the throngs of expats. Recession? Does that mean party?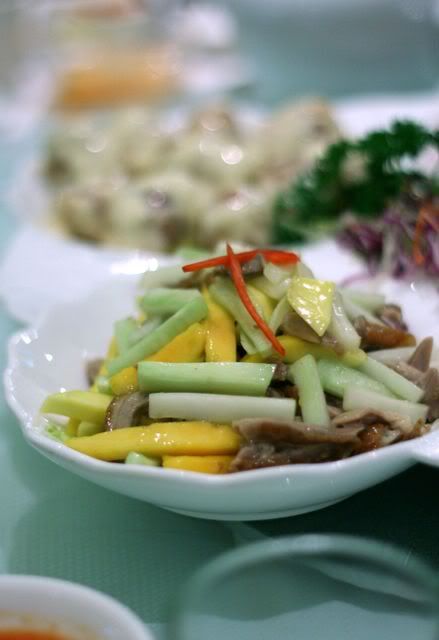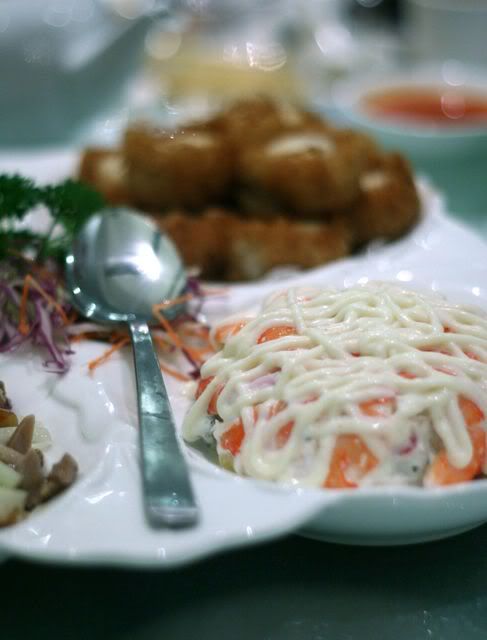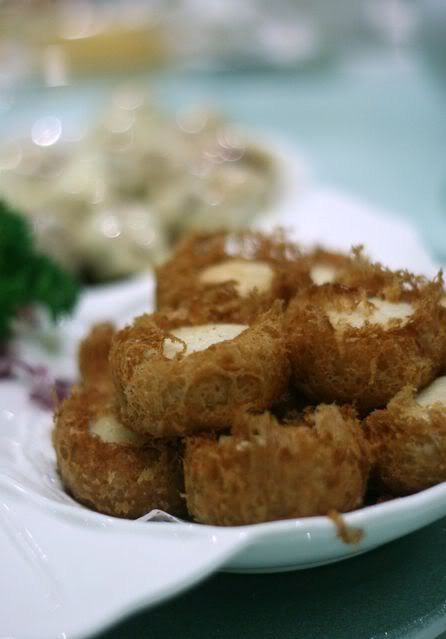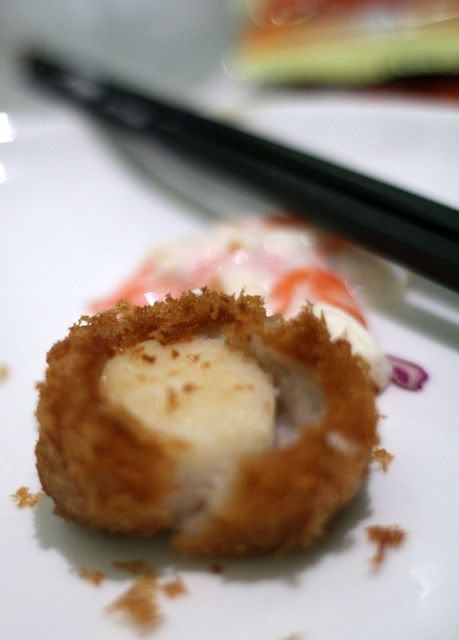 All of the above were part of the four seasons platter. I loved the scallops with the yam ring. Rather unique.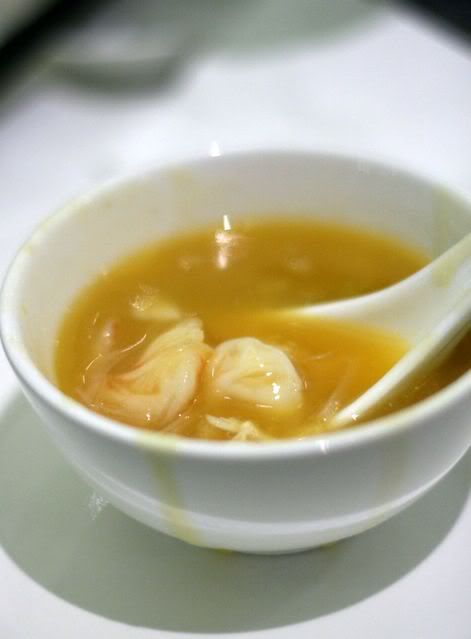 Another rather unusual dish was this Pumpkin soup Sharksfin... it seems a waste to have that precious stock to be drowned in pumpkin, but the taste was good, and well, it was different. Lots of fresh crab meat.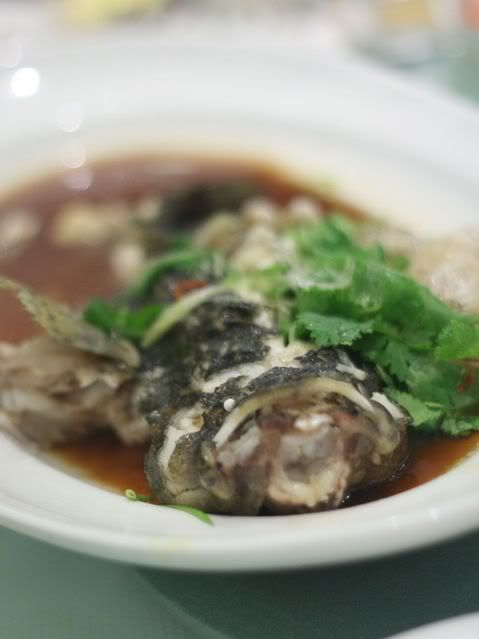 Till today, I still don't know how to photograph fish, so I shall just concentrate on the lips. The soon hock, or bamboo fish, was okay, I prefer the ones here, both in size and in preparation. But the maternal side of my family lurves their soon hock, and its almost a must have in any family gathering.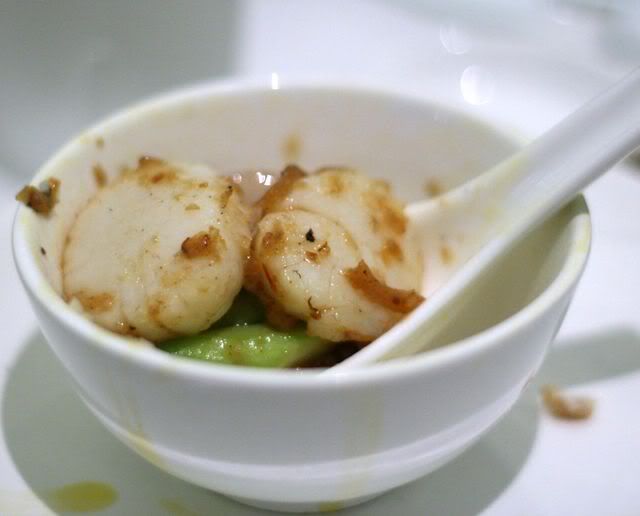 The scallops and asparagus were lovely. Fresh plump scallops, sauteed nicely in aromatic oil, almost like XO sauce...hmm, come to think of it, it might have been.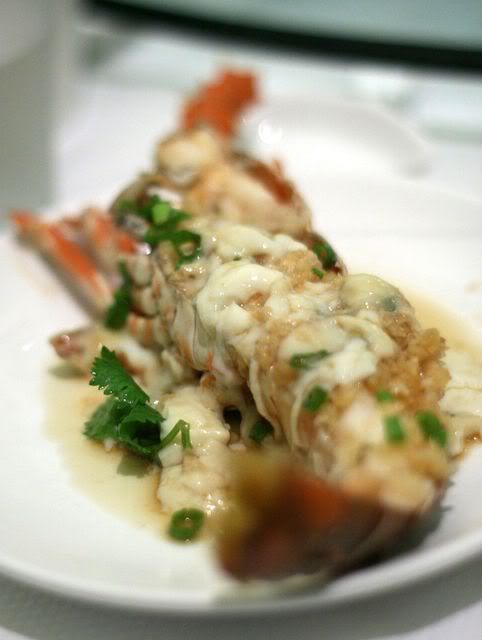 Mini lobsters steamed with egg white. Lovely, but by this time, we were like exploding already. Again, very fresh and sweet. Firm meat, and the method of preparation preserved the natural taste of the lobster.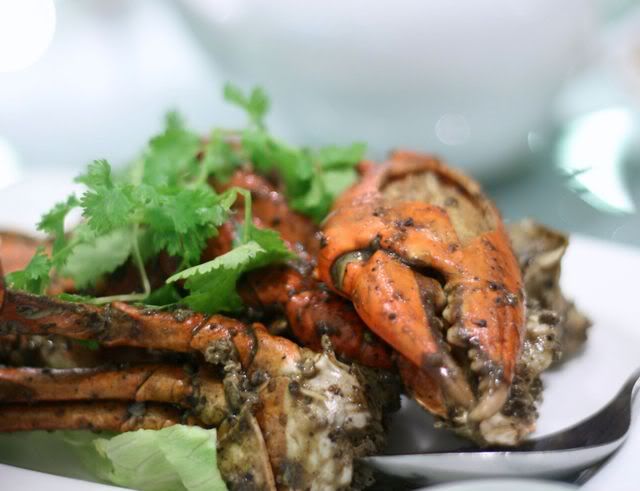 The pepper crab again. Not sure if it was white pepper, but it was good.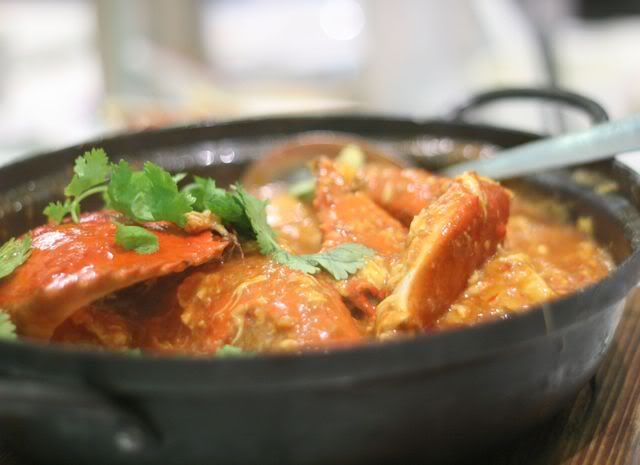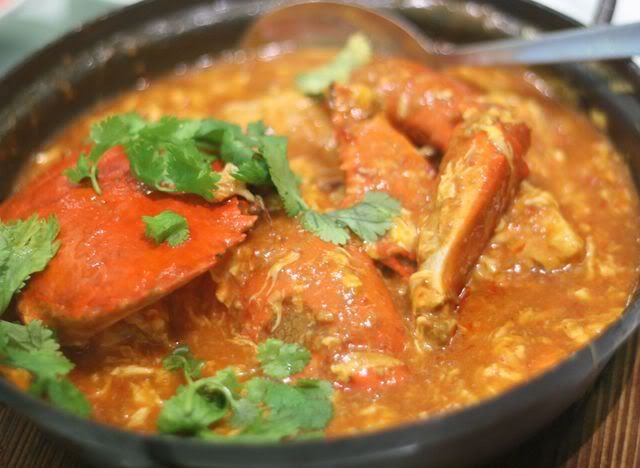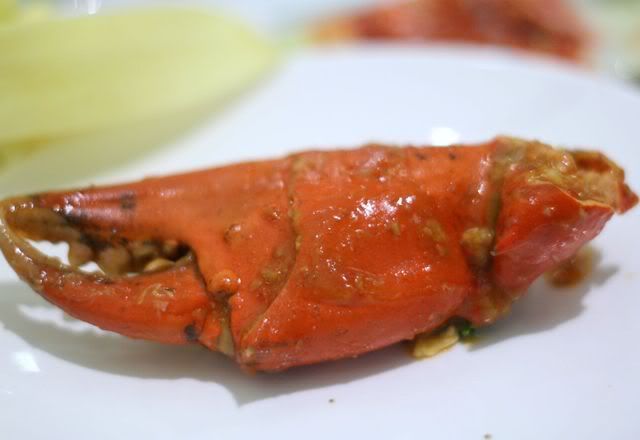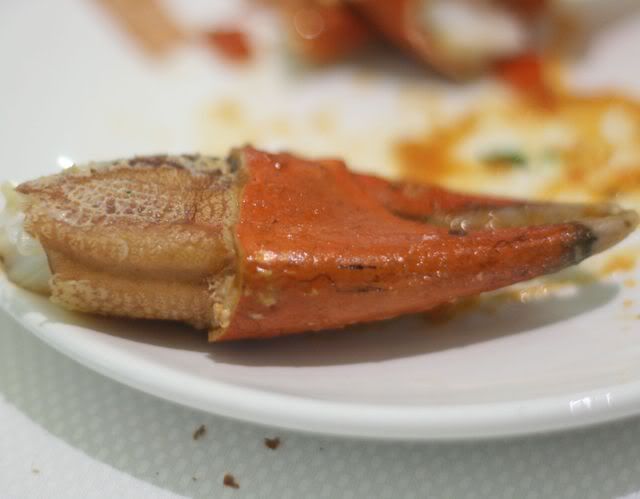 I somewhat preferred the chilli crab here compared with NO SIGNBOARD's. Tastes more like the Malaysian version. A quick discussion with Queen of Crabs however revealed that we both prefer the plainer sauces that don't kill the natural flavours of the crab. And it was unanimously agreed that the Chinks cook shell fish the best!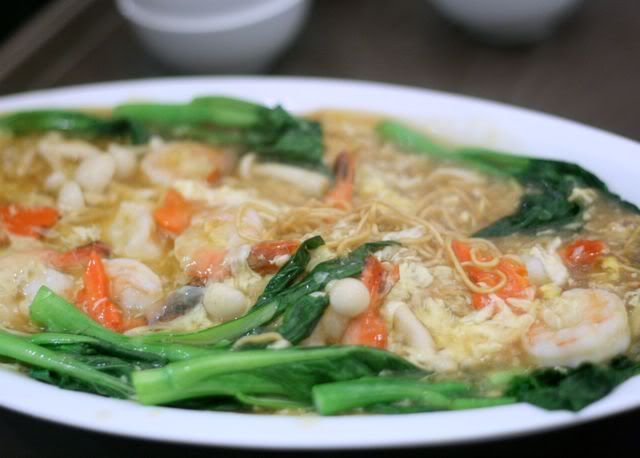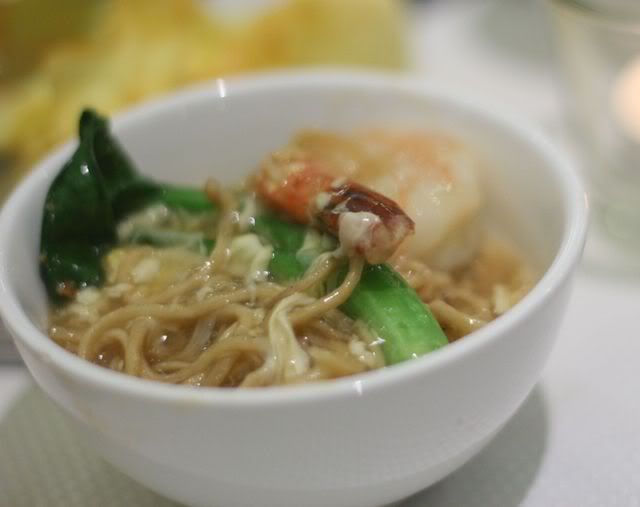 Lovely ending to the meal, my favourite noodles. Can't really go wrong with noodles. Comfort food. Although at this point, the best comfort we could derive was to empty our bowels.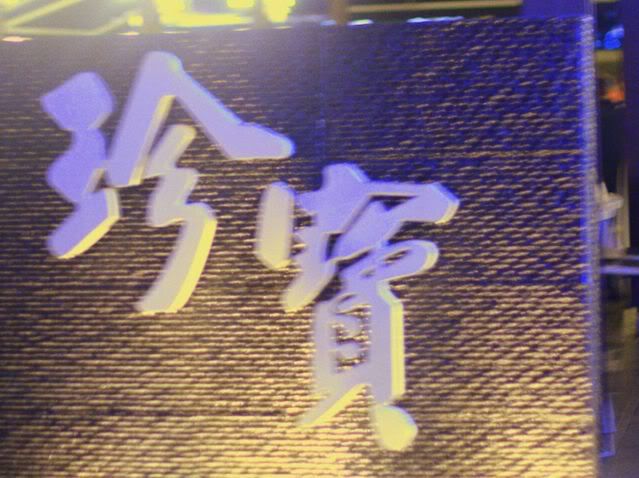 While waiting for dessert, we popped over to the gourmet shops in the vicinity, Jones, and Culina. Singaporeans are darn lucky, so much choice.
Overall, a very enjoyable culinary experience..... yum. Thanks Uncle.