When Edyth of Cooking House told me about this upcoming workshop slightly after the My Nourishment Launch, I was delighted at the prospect of indulging in one of my favourite ice creams. Time went by, and there was no further news, until BABE IN THE CITY KL popped up on email, informing us of the workshop, and 1st come 1st serve for the first 5. Good thing I check my emails regularly, or visions of tubs of NZ ice cream with flapping wings, flying away from me, filled my fertile restless mind. It wasn't till about 24 hours later that the "results" of the lucky 5 were announced. Yay, I was onboard.
Arriving at 1.55pm, I thought I'd be early, but to my surprise, all but Babe had already arrived. Food bloggers, they seem to be quite punctual for food. The glitterati included Teckiee, the famous celebrity blogger, always surrounded by bevy of chicks, Simon Seow, WMW, Precious Pea, and later on, Serena & Dwayne, and when she finally appeared, Babe.
I think the event is by invitation only, and the place was filled with professional cameramen and paparazzi, and NZN staff. There were more flashbulbs going off than Angelina Jolie's arrival at the Oscars.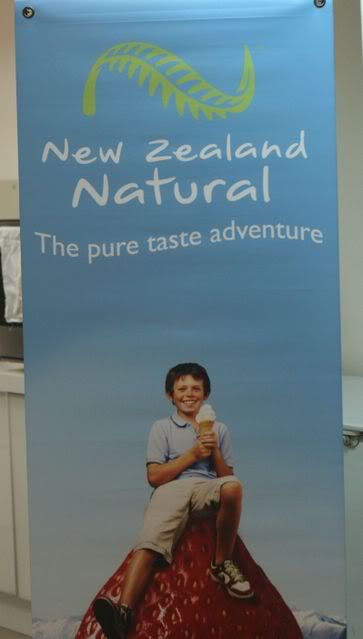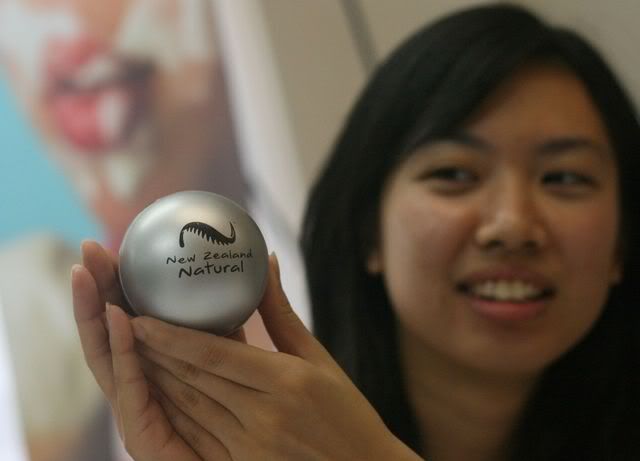 We were given party packs, which included, amongs other things, a stress ball bearing NZN name, which Teckiee very gently handled and showed us.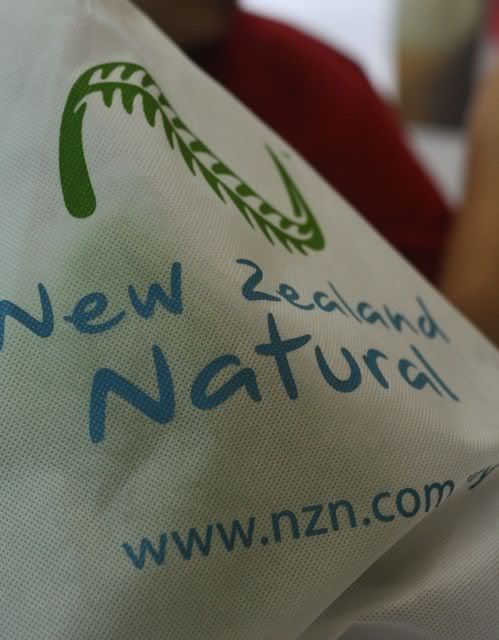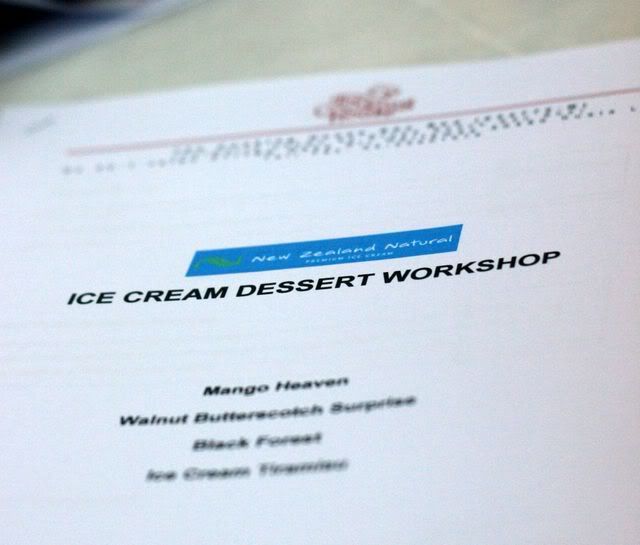 Actually, looking at the menu, I was thinking, hmmm, it doesnt take much to make it delicious...the ice cream is delicious enough as it is....without any help.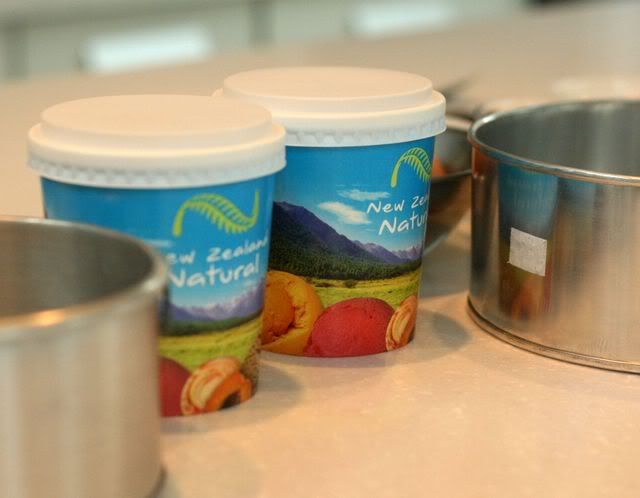 The picture above is symbolic, of what was to come. Ice cream sandwiched between cakes....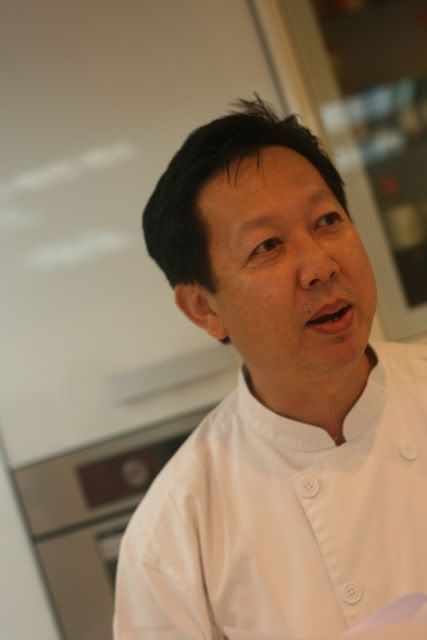 Chef T L Lee, who is also a lecturer in Taylors, was highly entertaining, and articulate.



We also had our own celebrity photographer in our midst, Dwayne Foong. Can't wait to see his pics. Thanks Dwayne for helping me clean my smudged lens...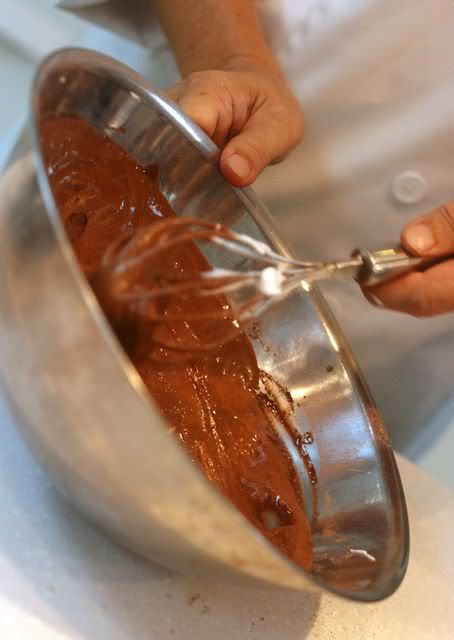 Chef taught us something rather interesting. He said that a well washed hand is better than wearing gloves, coz plastic gloves make you sweat inside, and the sweat might actually drip out into the food. Hence it is better to make sure your hands are clean. Its not the only activity I can think of that feels better without any protection.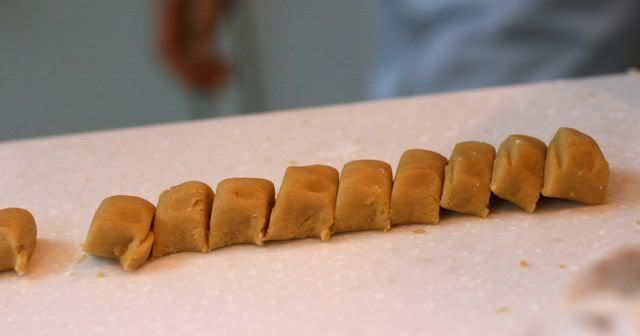 Pieces of butterscotch cookie dough, cut into even pieces, for rolling and baking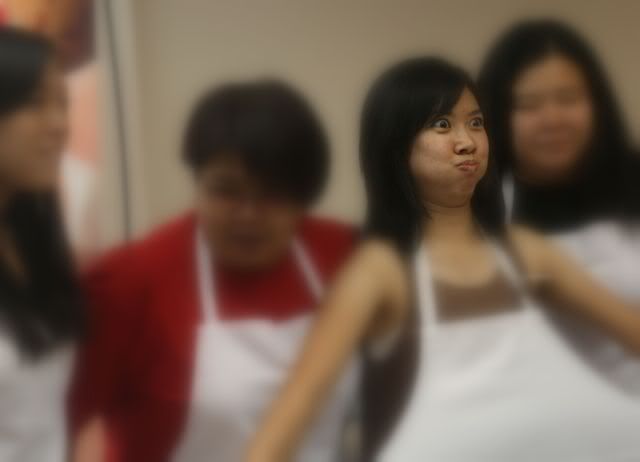 Teckiee's Response when Chef Lee told us to go to our respective workstations and replicate the sponge cake and butterscotch cookies that he had just demonstrated.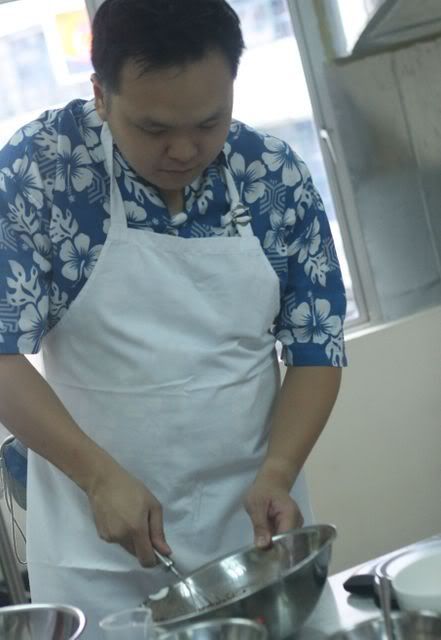 Look at the chick magnet, Simon Seow. Now that he has appeared with cooking utensils in his hand, do expect a surge in his already numerous pictures with the chicks.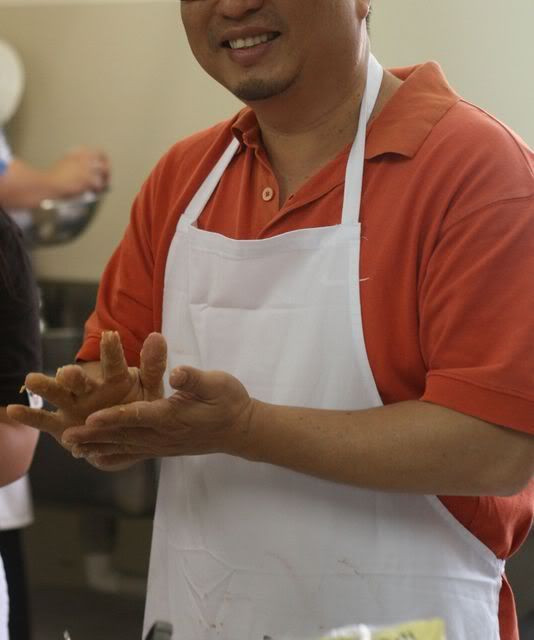 Here I am rolling the butterscotch biscuits in the sweaty palm. They tasted gooodd...



Our sponge cake rose beautifully, BUT to our horror, apparently we (or I) had put salt instead of sugar so our cake tasted like a sea sponge from the Dead Sea. Fortunately, the purpose of the exercise was to make a sponge, which wasn't going to be used anyway. Sorry guys for the boo boo. We should've served it hor, and see if people are polite and go, "ooooh, lovely".....However, we were the first group to complete our culinary task, albeit with the salty sponge, and had we really wanted to, we even had enough time to make a new one, as some of the other groups were still struggling with their stuff.

Finally, after the group work, which was fun, it was back to watching the see foo in action. We have him circumcizing the sponge savioardi biscuits here, so that they have a flat edge that can stand up in the tin, surrounding the tiramisu cake.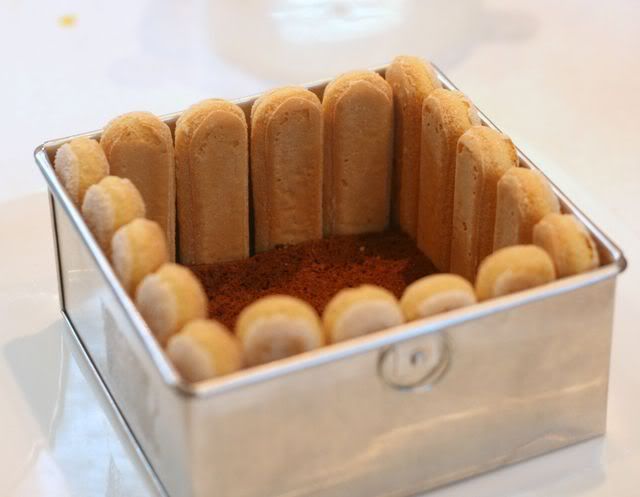 Butterscotch cookies and Almond Japonaise (which were premade) were used as bases and middle sections for the mango heaven and butterscotch surprise.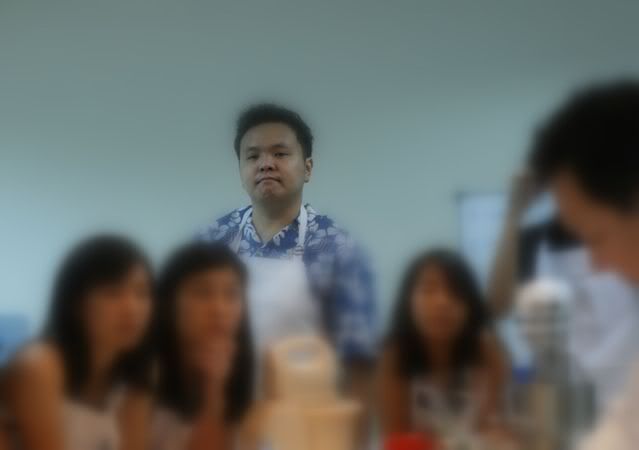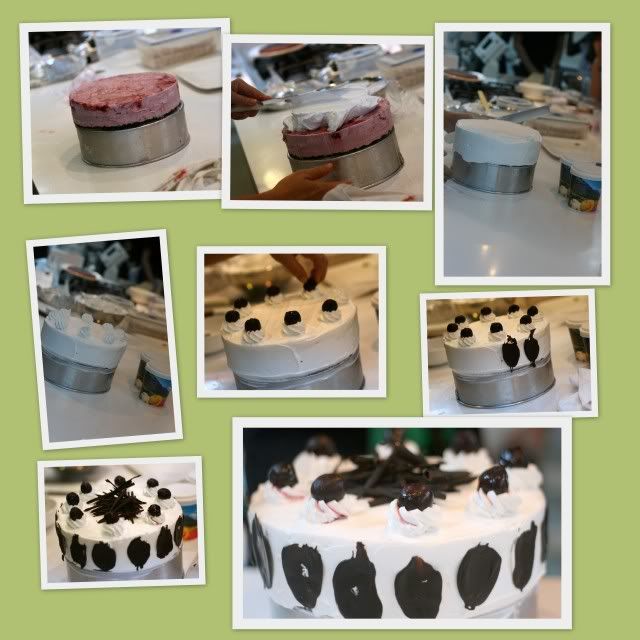 What we have in the collage above is the transformation, much like a bride on her wedding day, of a plain cake, to a decorated cake, in heavy fake non dairy whipping cream, (much like a bride too), to render it beyond recognition from its original form. At this juncture, WMW very kindly suggested to me as she hissed that I learn the art of decoration, as she has always maintained my cakes are hardly fit to look at. Heh heh. But yeah, I could learn a thing or two....
However, I am honestly not fond of rosettes, and non dairy whipping cream as a medium....though I dont mind using chocolate curls and chocolate shavings.
After the cake had been decorated, the paparazzi descended upon it literally like a celebrity bride about to walk down the aisle. Teckiee was very full of tongue on that day, for some strange reason.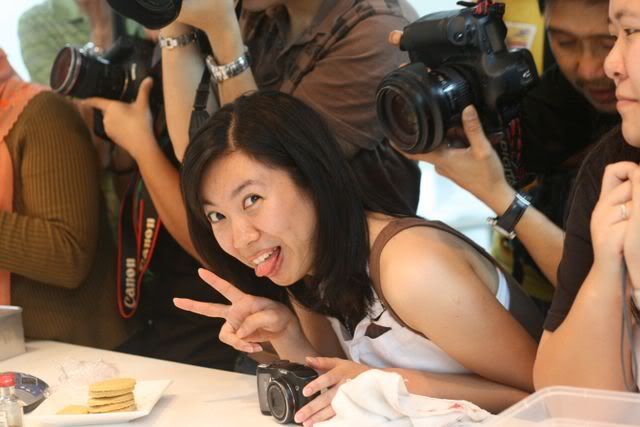 The butterscotch surprise was yummy. Not normally a fan of butterscotch per se, I actually found this rather delectable. Went well with the butterscotch cookie beneath, and actually, might have gone well with our salty sponge too.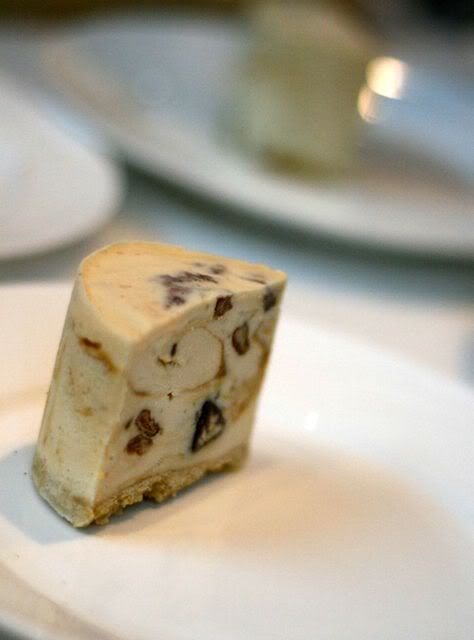 The blackforest, which had an oreo base, and chocolate sponge in between layers of heavenly boysenberry ice cream, was also superb. I ate it sans the non dairy whipping cream, no point wasting those calories on something that is meant purely as decoration.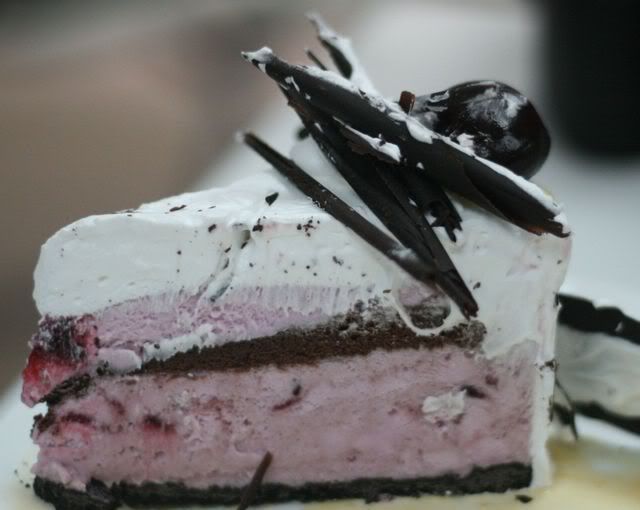 The tiramisu ice cream cake was also deeelicious. Oh, hangon, the layer of hokey pokey atop the layer of espresso was far too sweet, in my opinion. But the combination was superb. I would have done the proportions is reverse. ie, more espresso, less hokey pokey. The sponge fingers were purely decorative, another case of not wanting to waste unnecessary calories.


The mango delight was indeed delightful. Refreshing and a bit tart, it would really be a perfect way to end a heavy meal. We also drizzled some bits of pomelo, which was divine. Afterall, as can be seen in chinese restaurants, Mango & Pomelo combo seems to be the craze.
It was a lovely way to spend a Saturday afternoon, indulging in delicious ice cream, and having loads of fun with fellow food bloggers. Kudos to the Cooking House for putting together such a workshop.
Personally, I feel that NZN Ice cream is good enough to serve on its own, and would make a delightful dessert for any occasion, but yeah, it is a good idea to use it in cake too. However, be warned, it won't be cheap. I reckon the cost price for the blackforest of that size but be about RM80 or more. COST PRICE okay. But ohhhh soooo goood.