The republic referring to that little island mass south of our borders. That amazingly organized colony and even spectacular (at some places) scenery. Anyway, truthfully, with an exchange rate matching that of Australia, Singapore is NOT high on my list of "must visit" places, and if it weren't for the fact that we were there for a cousin's nuptials, we'd probably have continued our cuti cuti Malaysia, and lived like kings, with the kind of prices we were paying in Singapore. However, fortunately, because of the generosity of friends and relatives, the overall bill was pretty reasonable.
One of my main benefactors during this visit was the inimitable Hairy Berry. After putting him through much stress to find a suitable venue that was fairly near to me, had easy parking, and is child friendly, he suggested NO SIGNBOARD at the Eastcoast Seafood Centre, just off the ECP. I have never quite gotten used to the abbreviations of the Singapore highways. BKE for Bukit Timah Expressway, AYE for Ayer Rajah, SLE for .... whatever.
Driving in Singapore is a breeze. Everything is so well sign posted, and maps are good, you don't even need a GPS. Found our way to East Coast Seafood Centre in good time, and was actually the first to arrive. Sai Low was also joining us for dinner.
Nothing like a frosted beer glass with icy cold draught to calm the nerves, of having to navigate through a strange land, with 4 kids in the car constantly playing and singing along to Mamma Mia soundtrack.
I wasn't quite accustomed to seeing Hairy Berry in office garb, as the only times I've seen him was when he's back for the weekends. It's like after a scuba diving trip, when you suddenly bump into a fellow diver in the mall, and say, "oh, I've never seen you with clothes on, I almost didn't recognise you". (Real life story).

The claim to fame for most of the Singapore seafood joints are the white pepper crab. Starting at S$40 per kg for Sri Lankan crab, it goes into the hundreds for crabs from white countries. In fact, the next tier up after the Sri lankan crab was the Australian Snow Crab at S$140. Hairy kept assuring me that if you dont convert, the prices are quite reasonable. True, they actually have it good, these Singies. Dollar for dollar, they go a much further distance. A kopi ping in kopitiam is only $0.70, as opposed to our RM1.70. And a noodle in kopitiams are about $3.

I can't believe how green the vegetables are. Just like the zoo. All the animals so perfectly manicured. Everything is perfect in the little island. Penguins dive on cue, tigers pose for photographs, and in case they don't, there's a plastic replica for you to pose with outside most of the exhibits.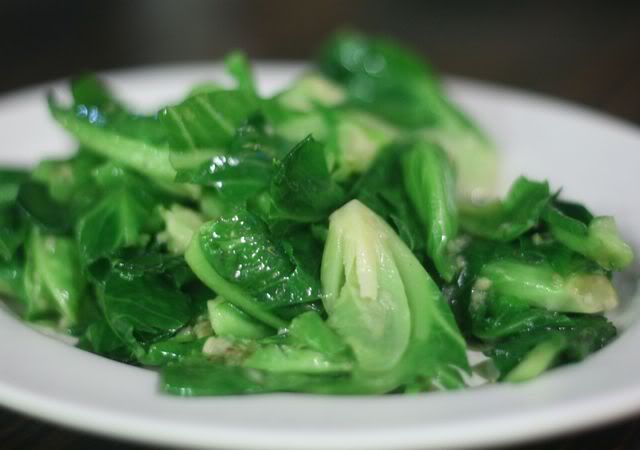 Choy tam, fried with garlic. Hard to go wrong here.
Marmite ribs. Oh dear, this is what happens when you blog about events after more than two weeks. Especially if the three weeks that have elapsed are filled with food and more food, everything becomes one big blur, with the help of alcohol. AS FAR as I recall, the ribs were good.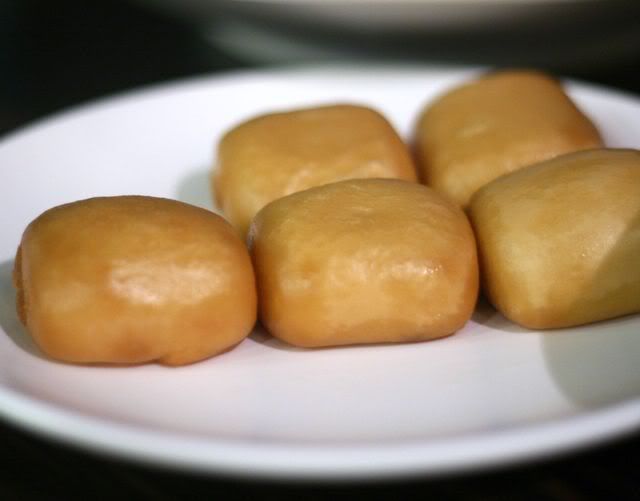 I love deep fried mantous, because they're sinfully unhealthy. These were ordered for the purpose of soaking up the gravy from the chilli crabs.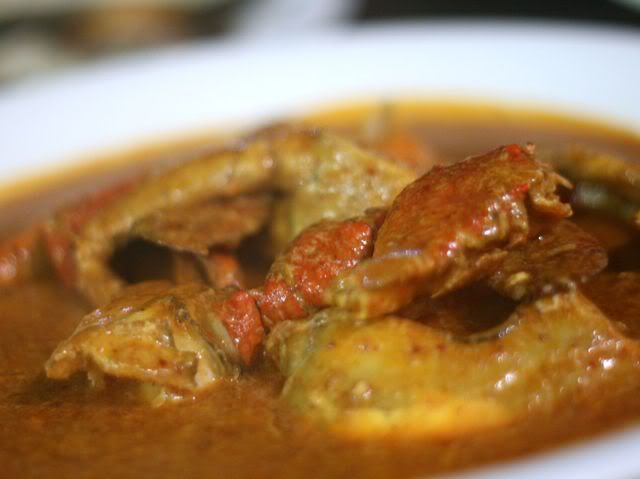 I think we all unanimously agreed that our Malaysian Chilli Crabs are far better than this particular offering. However, the Sri Lankan Crabs are fleshy, and rather meaty. I remember at one stage they were all the craze here. Huge mothers of crabs, which were then rumoured to have been fed on human carcasses floating off the Ganges. Is the Ganges near Sri Lanka? I lurve Sri Lankan crabs, whether or not they've been fed on human meat. After all, as the song goes, in Lion King, it's the Circle of Life. As long as it wasn't my direct ancestors they were feeding on....Oh, my mistake, I coulda sworn the
Circle of Life lyrics
were about the food chain....but I just googled it and its not. It's about sapphire skies.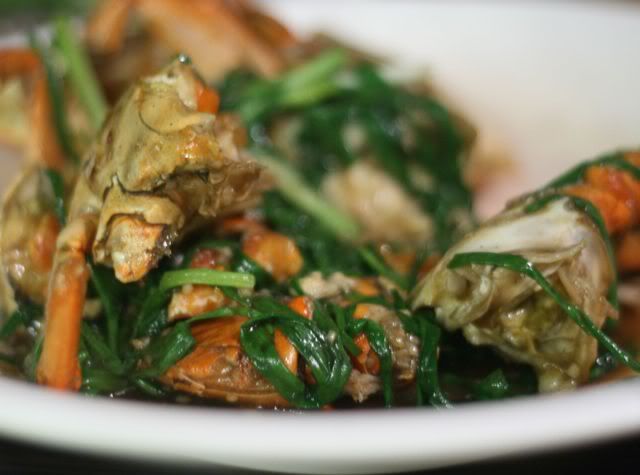 Ah, the white pepper crab. Rather good, I have to say. I love the peppery assault on the palate, and the strands of spring onion. A very delectable dish indeed, I have to say. Brings out the flavour of the crab, unlike the chilli crab which was drowned in the that starchy gravy. Hmmm, I kinda feel like having some now. KL got ah? Sure must have one leh. Calling out to the Queen of Crabs, Precious Pea.....oh knowledgeable Regina Crabus, where can we get White Pepper Crab in KL?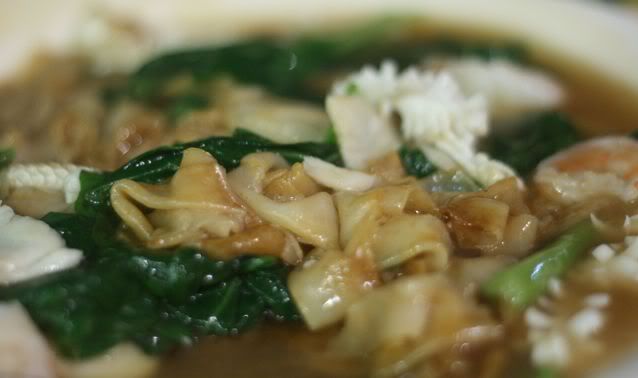 Wat Tan Hor Fun. Mainly ordered for the kiddos. But tasty enough, and was our main carbs for the night.
I am sure the pro-life people would be appalled at the amount of roe that was prematurely killed along with this mother crab. But heck, it was DEEEEELICIOUS!!!! Just look at that that!!! I can almost hear my pharmacist (Ciki, help, help!) stocking up on a year's supply of Lipitor for me, in anticipation.....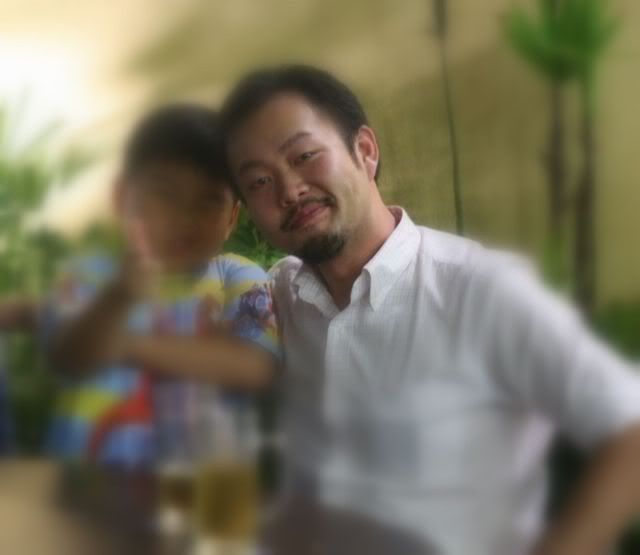 Actually Hairy Berry did a very very naughty thing, and PAID!!!! ARGH!!! My Sai Low, who has been working in Singapore for years now, made a feeble attempt to fight for the bill, (that Chinese game, of Quick Draw Credit card mcgraw)..... The bill in ringgit terms is staggering, but Hairy Berry assured us that it was okay as long as you don't convert. Hey Hairy, thanks heaps, owe you a big big dinner in KL okay.
Happy New Year everyone, welcome back all my dear friends from London, Krabi, Sydney, (in order of their arrival dates)....and here's to a gluttonous, culinefarious, 2009.