From Wikipedia:
Shortbread is a type of biscuit (cookie) which is traditionally made from one part white sugar, two parts butter, and three parts oatmeal (although plain white flour is common today, and other ingredients like ground rice or cornflour are sometimes added to alter the texture). Shortbread is so named because of its crumbly texture (from an old meaning of the word short). The cause of this texture is its high fat content, provided by the butter. The related word "shortening" refers to any fat that may be added to produce a short (crumbly) texture. [1]
However, if you ask me, its named thus because it shortens your life. Its packed with butter, and all the other good stuff that's bad for you. Oh, hangon, my bad. Its just the butter....
Anyway, its darn easy to make, and tastes delicious. I just had a wedge for breakfast with a cup of piping hot instant coffee....(what to do, no one to make filtered coffee for me)....
The recipe:
2 cups plain flour
½ cup rice flour
1/3 cup sugar
250 gm butter
1 tablespoon water
Cream the butter and sugar in a mixer, or food processor. Add flour, water....mix a bit until cohesive, turn out onto table surface and knead a little bit.
Make out 8" diameter discs (recipe makes 2x 8" discs), or a square tray approximately (pi r square yields a total area of 100 sq inches for two discs) 10x10 inches....for the same thickness.
Run some lines over the dough, (for ease of cutting later on) and prick the dough with a fork, randomly, or systematically, depending on your mood.
Sprinkle some extra castor sugar evenly onto the discs.
Bake in 160C oven (140C if fan forced) for about 40 minutes.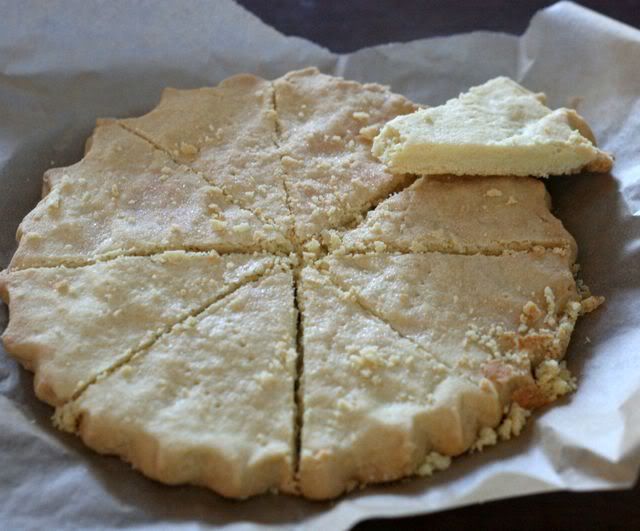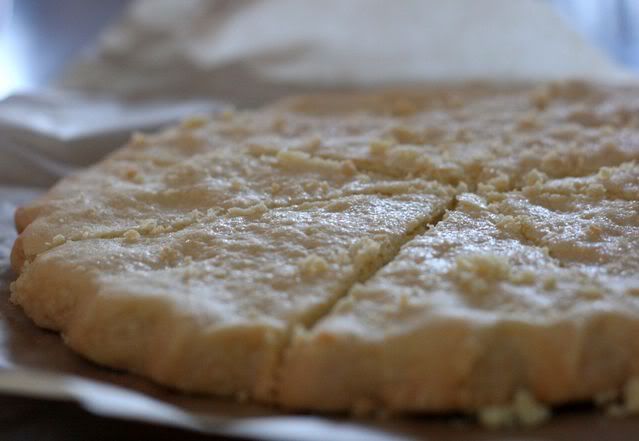 The texture of my shortbread was very crumbly, melt in the mouth. I think if you want a harder consistency, knead a bit more. Unlike massages, where kneading relaxes you, I find the more you knead these butter doughs the harder it gets. Hmmm, come to think of it, massages can also have the same effect....

Yeah, so try it out. Easy peasy.....