I admire people who manage to get great names of shops for themselves. I mean, it's so perfect right, you ask someone, "how's the cake?" and the reply, in gasping, bordering on climax kinda tones, "ahhhh, Just Heavenly".....

Maybe I should name my cake shop "I'm Coming", if I ever opened one.

I can't believe it's been two years since the launch of their other outlet at Epicure, where Chef and Brew is. How time has flown, but more importantly, in those years, a true friendship and camaraderie has been spawned, between many many food bloggers, and this wonderful duo behind Just Heavenly, and I am proud to say that we are good friends. Might not be "that close" but yeah, good friends, nevertheless. Therefore it was with great pride and joy that we went for the launch of their newest outlet, A SLICE OF HEAVEN, at Jaya One. You can't miss it, its next to Cold Storage.

I half expected Nigel to be dressed as a cherub, in diapers and wings, carrying a harp. But nah, no such luck.



You don't need to wait till Christmas to have a tree with goodies hanging off it.



I love this photo. I think if you stared at it long enough, you might, as Hairy Berry puts it, be tempted to go TOWARDS THE LIGHT....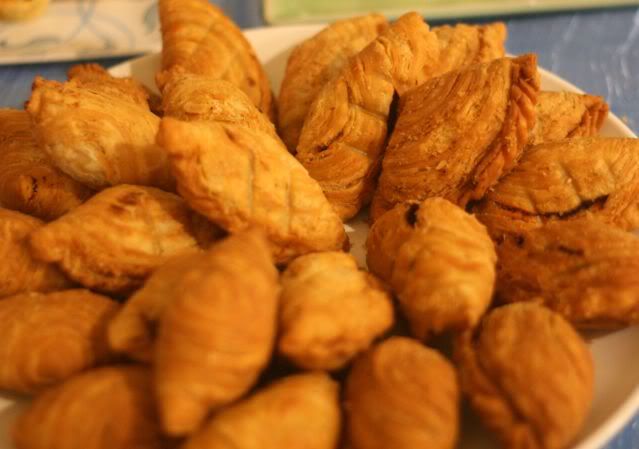 Lovely substantial pinwheel currypuffs for the guests.



Quiche by a cordon bleu chef, no less.....who didnt acknowledge my sms of adulation and admiration. Chis bedebah.



You might be shocked to know that I am still a Just Heavenly Choc Durian Virgin, and I felt today was the day to rectify the situation. I bought one of these babies to try.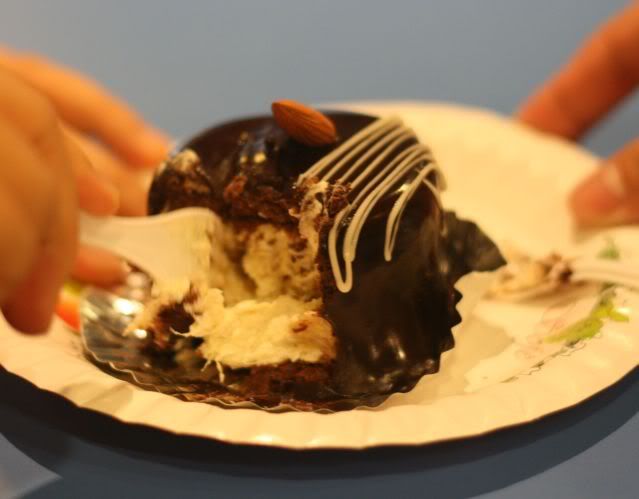 Did I say I was coming? Wife was also partaking of this slice of heaven. Mmmmm, I wish I had a slice with me now. Delicious durian, on a layer of chocolate cake, coated with a thoroughly rich chocolate ganache, with a hint of chilli. ABSOLOOOTLY deeevine.



Tarts au citron, for us lucky guests.



The cupcakes for sale at the counter.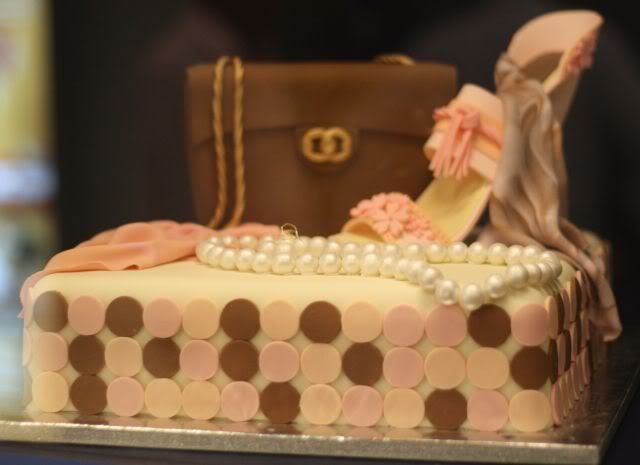 Look at their exquisite workmanship, such detail. [Fainting at the prospect of all this microsurgery equivalent of the baking world]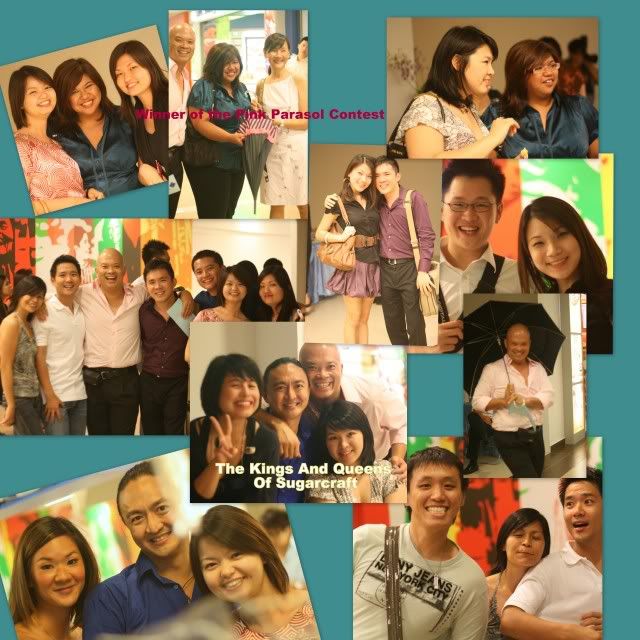 The happy faces of friends. Also, meeting for the very first time, THE QUEEN of Sugarcraft, Sue of Delectable. (who's own lovely shop at the Gardens was launched on Friday, 12th June....will blog about that separately)
I really felt quite dizzy to be amidst the gliterrati of the baking world.
Thamby just received her prize of a pink parasol, for
winning the slogan contes
t on Cumi& Ciki's blog. Us guys reckoned our entries were better but there was a gender bias in the selection of winners. Anyway, I hope it rains plenty so Thamby can put her prize to good use. Here's to wishing you lots of rain....with you caught in it, Thamby.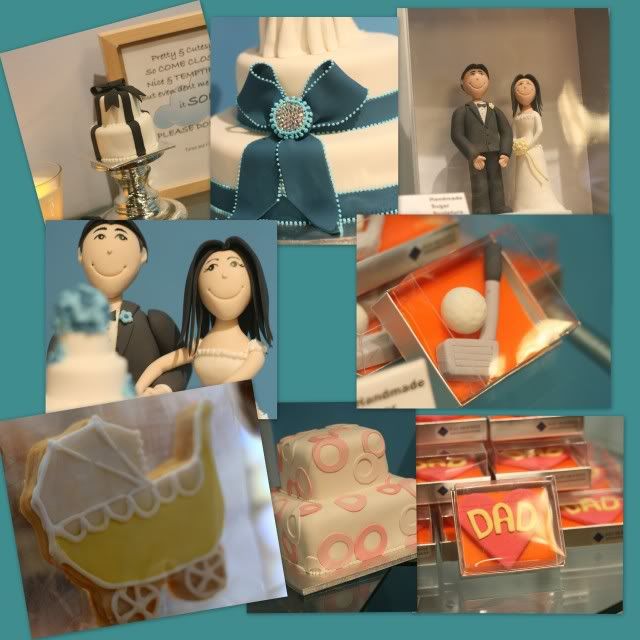 Just check out the myriad offerings. What they do is, they sell all thes wonderful edible decorative items to embellish even the dullest looking cake. As my late grandmother said, "chee na pan hei tou wooi leang". (even a pig with make up can look attractive). So yeah, this WOULD be the make up I tell ya.

CONGRATULATIONS AND BIG HUGS TO NIGEL AND ALLAN, AND MAY YOUR BUSINESS SHINE WITH THE SAME BRILLIANCE WITH WHICH YOU LIGHT UP OUR LIVES.
BOW BOW BOW......
Your humble acolyte.