Procrastination is the biggest thief of time
...so we were taught, in school, by my geography teacher, who also turned out to be a cult leader, who was arrested (maybe it was ISA) weeks before our SPM finals. Yeah, I must've gotten a C5 or C6 for Geografi. (or was it called Ilmu Alam).
But I digress before I've even started. A sure way to fail essay writing. An introductory paragraph with NO BEARING at all to the main story line. Well, after spending good money a few months back, on a
macaron class
, at THE COOKING HOUSE, I STILL hadn't gotten around to actually trying to make it. It's rather arduous and tedious really. According to the instructress, it is an EXACT science. 180 gm means just that, not 182, or 177gm.... (how did they make macarons before the invention of digital scales? TELL ME?), and 175C has to be just that. Egg whites need to be sitting for at least 5 days in advance, out of their shells. (in a container, obviously). You cannot make them less sweet, by reducing the sugar. It is like the neurosurgery of the baking world. Precision, no room for error, ..... hence, it was with great reluctance that I attempted this dangerous feat.
An earlier attempt was aborted before it could even begin, because my brilliant maid was wondering why the egg whites were sitting in the fridge for 4 days, and used them up in a giant omelette.
Finally, the stars were somewhat aligned, with no pavlova orders requiring egg whites, and my eggs finally got their 5 day spa treatment, and complete rest.
Sometimes, you know from the onset things have gone awry. I had this psychic feeling already. And laziness and denial did not help. I knew there were lumps of solidified sugar in the batter, and yet, like Malaysia denying it is in recession, I continued to fill the piping bag with the batter, hoping that somehow, it'll sort itself out. Anyway, the batter itself also seemed all wrong.
Well, I managed to pipe about 30 or so, before KABOOOM, the entire thing exploded in my face.....there was chocolate macaron batter everywhere.....it was as if there had been a nuclear blast in Chocolateville.... I could almost hear little cocoa beans screaming for their lives.
To cut a long story short, here's my feeble first attempt: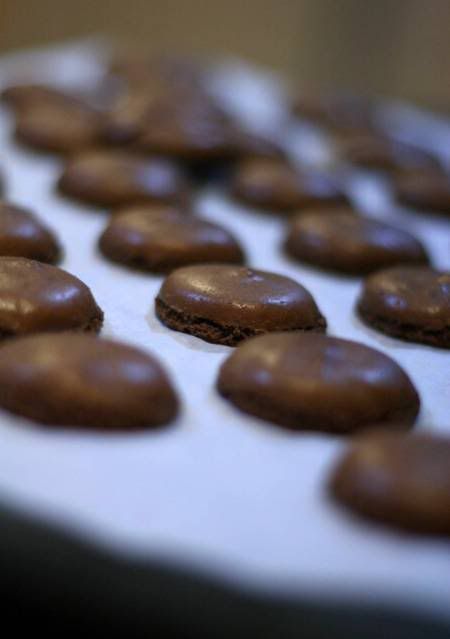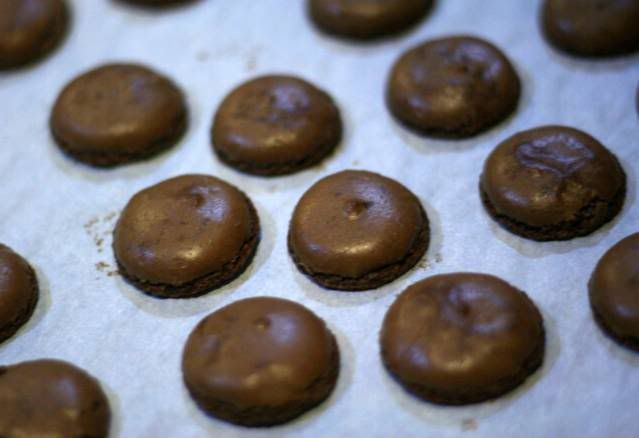 Some of the macs, that almost turned out....there were massive cracks, that makes the surface of the moon look like a new born baby's bottom.....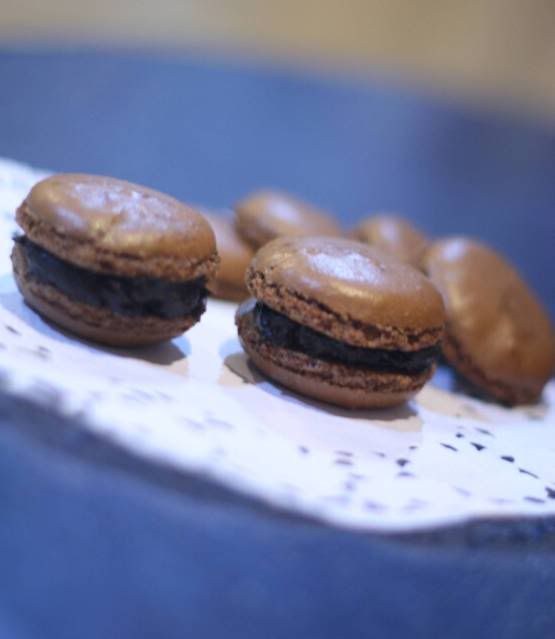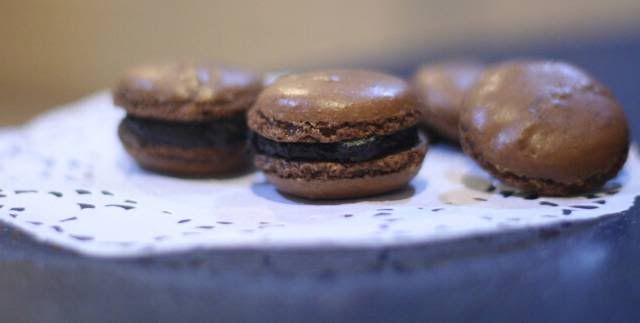 And behold, the remnants of the batter that didn't make it, were scraped off the walls and plonked into ONE BIG MAC!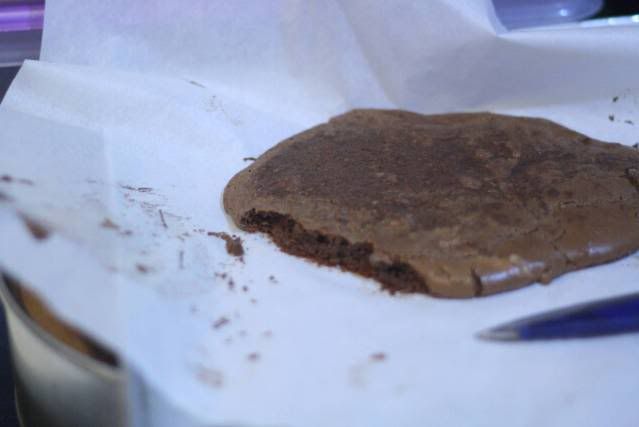 Actually taste wise, it was okay. What a waste of good dark chocolate. Sheesh.
Back to the drawing board, and time to start saving eggs again. Anyone wants my yolks?