No, this isnt the bridal couple, though I have more pics of them than the bridal couple. Somehow, the lens always gravitates to them. It's the star quality, I tell you.....


In the land of the blind, the one eyed woman is QUEEN.....

See what I mean about the paparazzi stalking the stars....




Once upon a time, in a faraway land, from KL, somewhere in Germany, a baby (German) was born. He grew up, surfed some Malaysian food blogs, chatted up the authoress, and lived happily ever after....

Yeah, that about sums it up. And as a result, one table of us very privileged people were invited to the wedding reception of our dear Lianne, also known as Imbi & Itchy, (No, its not an extension of I'm Bitchy and Itchy), who's whirlwind romance is stuff that romance novels are made of. I am pleased to announce at this juncture I have NEVER EVER read a single Mills & Boones in my life.



Very da posh venue, KL Hilton no less. A cosy soiree of 5 tables, including the main tables. Such a far cry from the 70 table weddings where you can barely hear yourself fart... and people belting out hokkien karaoke. Nothing against hokkiens...

Our table of 12 comprised old friends from the food blogging community, the famous Masak Masak, A Whiff of Lemongrass, Teckiee of Eat First Think Later, WMW of You Get What You Give, Precious Pea, the inimitable Nigel Skelchy, and the dashing Allan Yap, of Just Heavenly, Young Boy Jason of Ipoh Mali Tak Sombong, Serene of Food Cookies and of course, our dear Hairy Berry all the way from Singapore.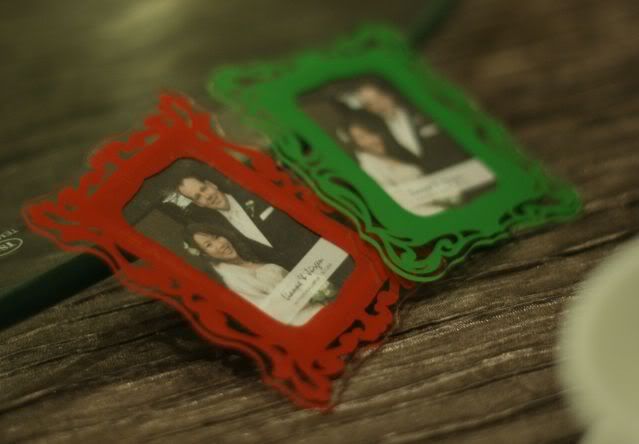 Interesting wedding favours. Cute magnetic photo frames with a pic of the bride and groom.



There was a brief tea ceremony before the start of dinner.....




The free flow beer and red wine had certainly worked, and everyone was in a chirpy happy mood.... nah, actually I tell a lie. It wasn't the alcohol that created the mood. How not to be chirpy and happy in the circumstances? Nice venue, good food, good friends...good occasion. No need beer also can have fun la.....well, maybe.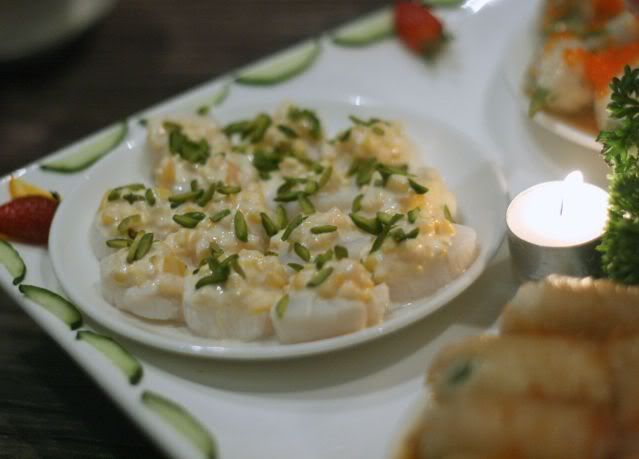 The four seasons platter was unusually good. It had scallops, with lovely bits of pistachio, in a mayonaissey kind of sauce, and were very fresh. The cold cuts, chicken roll with jelly fish was also good... in fact, yeah, they were all good. Usually it's quite a hit and miss thing, for 4 seasons platters at wedding dinners.



Of course, the diligent food bloggers live up to their reputation, and whip out their respective equiment to perform their tasks.....

....INCLUDING the bride....



Hmmm, that must be a first. A bride taking pics of her wedding food to do a food review.

There was a lovely soup, which I forgot to photograph...



The lemon chicken was EXCELLENT!!!! Tender, but not supermarket frozen soft and textureless, moist, and not drowned in sauce.



Fish in the net....[Man in the Net music humming in the background] Steamed sea bass...not too bad. Lovely presentation though.



The bride is delighted to see the cork fly so high...and the fluids spewing forth...



Again, the lens is focused on our party's livewire....



She's looking shy and demure.... didnt have time to whip off the glasses, but well, they matched her shawl, apparently.

Okay, we've focused enough on the guests, ..... a collage of the bride now....




Isn't that laughter and happiness almost contagious? !!!!

Seeing pics like these, the collage below, always makes me think of Neil Armstrong's It's a Wonderful World....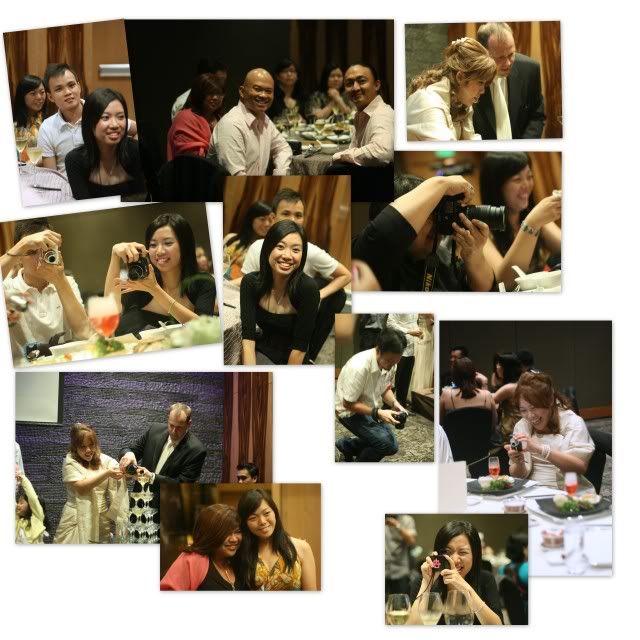 The man is truly dedicated to his art, and will stoop to any level....



The vegetable dish, lovely bak choy with kei chee, (wolfberries, good for the eyes, according to grandmothers), and some abalone clam thingie.




And the individually wrapped glutinous rice... yummy.... perfect to cap it off. All that running to and fro from the table to the stage to capture pics of the bride and groom is rather tiring...and the carb fix was most welcome.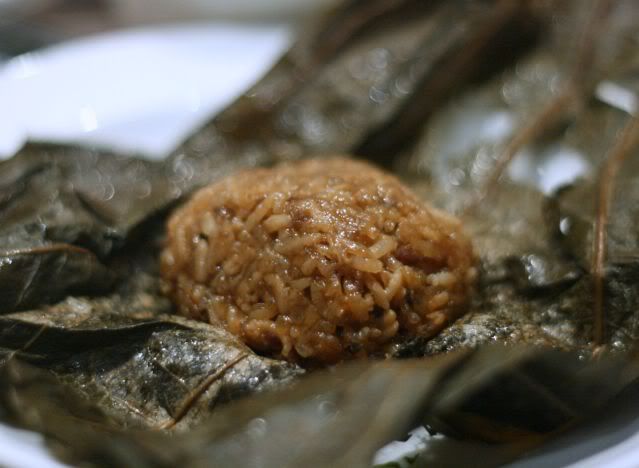 Desserts were these lovely deep fried buns, with custard and corn filling....very nice. Crispy on the outside, soft and moist on the inside.



Hey, check out the insides of my buns....



Hey, isnt that the Mandarin Oriental Logo? What's it doing inside a KL Hilton dessert?

Thamby signing the guest book....



I think I daresay I speak for all our table, Kang Lianne...we had a WONDERFUL time, and thanks so much for inviting us. We wish you and Jurgen all the happiness in the world together, and may your love for each other grow even more, so that when we're invited to your 25th wedding anniversary, there will be so much love flooding the ballroom, that we'll be overdosed!

God bless you both.