Selamat, Hari Raya, kepada saudara serta saudari, setahun, hanya sekali, kita menyambut hari yang mulia ini...jang jang jang...

So the strains of Saloma's classic raya carol permeates the air in shopping malls, radio, the way the smell of lemang and rendang adds a literal air of festivity.

Normal people rest, go visiting, spend time with family, but do I? Nooooo, I sign up for Perfect Rack of Lamb cooking course at the Cooking House. Mainly because I thought the kids would be busy with their Mandarin lessons, who knew the tutor would cancel at the last minute because his sister in law just gave birth.

A very guilty quick exit, muttering, "papa will be back soon" as I made my way to a now familiar haunt in Desa Hartamas.

Chef Francis Lim, with his very exotic Indo-Anglo accent, was delegating chopping tasks to those that were already there. I was delegated the task of cubing half of this monstrous egg plant, for our RATAOUILLE dish.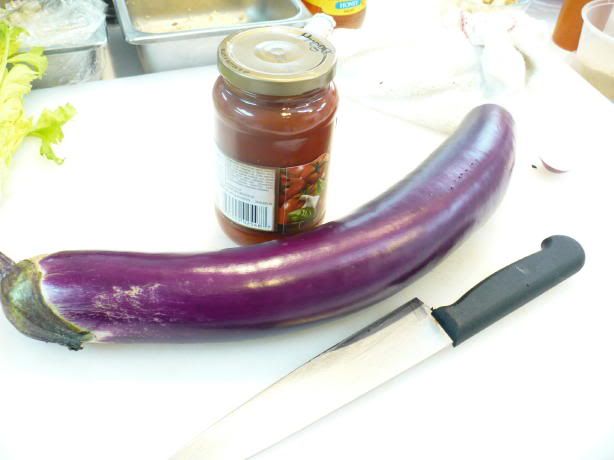 Look at the sheer scale of that mutant egg plant. The knife and jar of pasta sauce is placed there to give you a sense of scale.




When all had arrived, the chef proceeded to make the dessert first, which required refrigeration after baking. Vanilla Creme Brulee and Caramel Creme Brulee. Coincidentally, we had creme brulee at Rick's last Thursday. I so need to get a blowtorch.




The chef is demonstrating above how to add milk to caramelised sugar. That blob rising out from the sea of milk is actually the sugar that has been caramelizing. Surprisingly, the whole mixture eventually melds into one nice brown mixture.

I just LOVE the sight of fresh raw ingredients. There's something so liberating and the colors so dazzling, that just makes one happy to see God's creation like a kaledeiscope canvass. And the smell of chopped herbs, parsley, etc, ah, a hint of heaven on earth.

Prior to the movie, I had only vaguely heard of Ratatouille, and quite honestly, judging the the ingredients, I didnt think all that much of it. Sounded like a chinese stir fry to me. The blend of vegetables though is highly attractive visually. Yellow and Green Zuchinni, Purple Egg Plant, Red and Green Bell Peppers!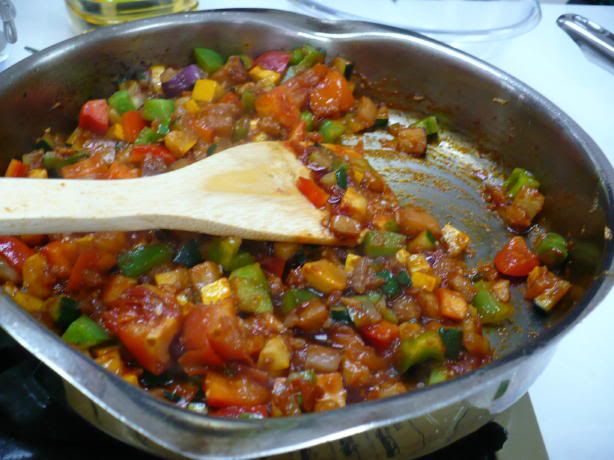 Cream of Mushroom Soup. What a lot of ingredients go into this baby!!!! Three types of mushroom, oyster, white button and shitakes, leeks, celery, a ton of various herbs, plus a very complicated mirepoix...(mee ruh pua).. chicken stock that is probably good enough to drink on its own.




Look at the wonderful medley of mushrooms, happily sauteeing away in the large stock pot.

I can't for my life remember what this combination was for. Red and yellow onions, shallots, spring onions, ....possibly this preceded the mushroom medley.
After pan searing the very herb marinated lamb rack, he chucked it in the oven to bake for awhile.
Meanwhile, the class had run into overtime, and my kids were calling me like every 5 minutes. Stress stress.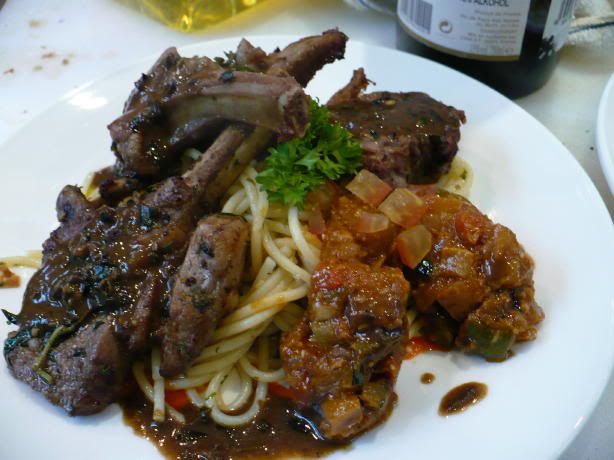 The finished lamb rack, quickly sauteed pasta and ratatouille.
Verdict : Very good. The olive sauce for the lamb was a BIT salty, but still good. Ratatouille was surprisingly flavourful, and was actually polished up by the class. Pasta simple and effective. Move aside, aglio olio!!!





Cream of Mushroom Soup.


Verdict : Seriously, one of the better mushroom soups I've had. I love the coarse texture of the soup that lets you taste the distinct mushroom.





The creme brulee in various stages, to after cremation. I SO HAVE TO GET A BLOW TORCH. The caramel creme brulee, surprisingly not sickly sweet, was lovely actually. The perfect end to the meal. I can't wait to attend Francis's pasta class.