...Now, that would be a good word for scrabble, all the letters with high score values....the B, the J and the K...
So, one thing about food blogging is, the food blogosphere is such a happy friendly place, everyone's minds are focused on food, and food is a friendly topic. I mean, other blog genres can get quite hostile, such as political blogs, or religious blogs, or even gym blogs. But food, ah, happy times, happy times.
It stands to reason too therefore, that food bloggers are a friendly bunch. As is the case here. For the
Nibbleish
event recently, I met
Memoirs of A Chocoholic
, (who wants me to announce that she is single, and in my opinion, VERY ELIGIBLE), and she, Ciki, and me, who meeting for the very first time, got along like house on fire. Oh, she's a friend of Jules, the flogger who churns out posts faster than UTM churns out lawyers....
A few weeks later, I get an sms from her asking Ciki and me to get together gether for lunch. So nice hor.
The venue, Bonjuk, in Desa Sri Hartamas. It didnt occur to me to ask what kind of cuisine it was, the idea of lunching with two hot chicks kinda obviated the need to find out. But yeah, it was to my initial "horror" to find out it was a Korean Porridge (Congee) Place. You see, mentally, I have this idea that porridge is for sick time food. Generally. But actually I am not averse to it. And for this occasion, after a spate of dinners, I was actually grateful for some detoxifying tummy warming comfort food. Harumph, what I wasn't counting on was, CIKI, that CARNIVORE extraordinaire. I guess she needs to fuel that furnace that keeps those legs running at paces that even makes Unkaleong of 6 abs fame seem like a tortoise.
I ordered a chicken ginseng porridge (approx RM12), and Memoirs ordered a mushroom porridge....very healthy....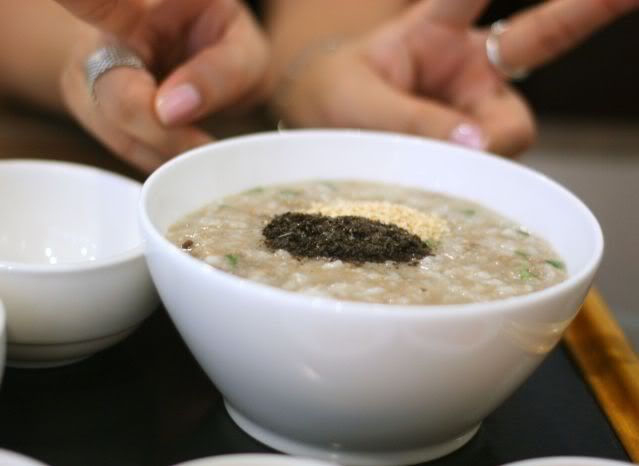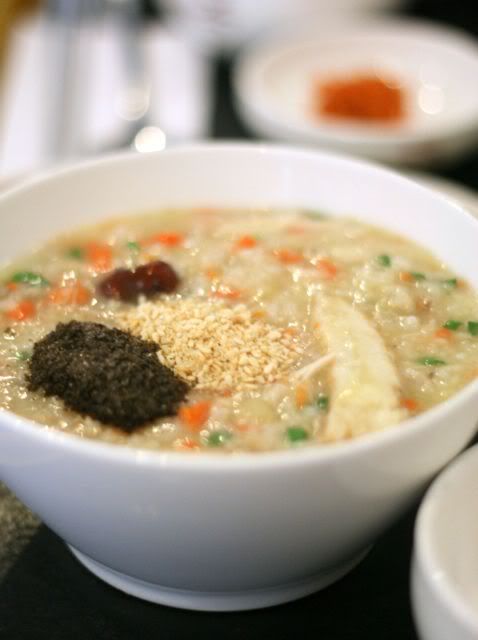 My chicken ginseng porridge. Hearty, wholesome, makes you feel like cuddling up on a cold winters day....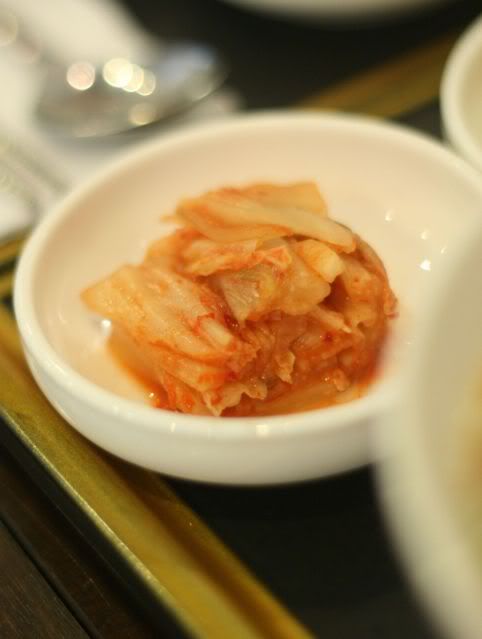 Kimchi of course...



Salted chicken, as condiment....a bit too salty...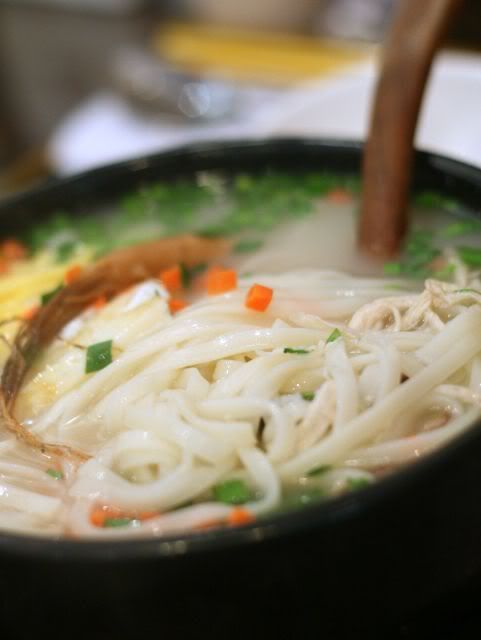 Ciki ordered this rice noodle with chicken and ginseng....which she said was nothing to shout about.

But yeah, just when you thought it was going to be a nice healthy meal, Fiery Furnace Runner here orders one of these!!!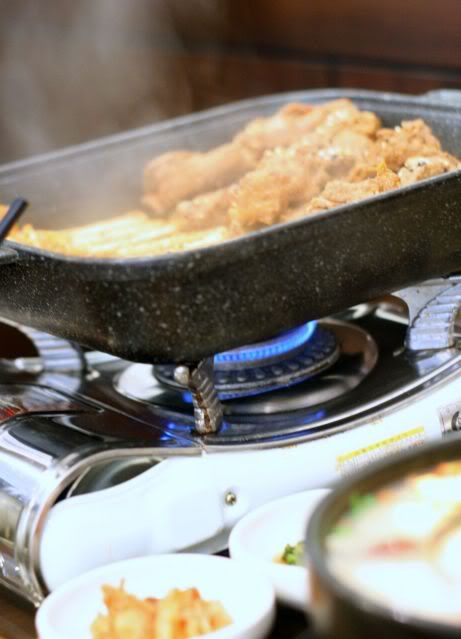 A Korean Hot Pot with the most divine pork ribs, falling off the bone, ......AARGH, there goes the healthy lunch!!!!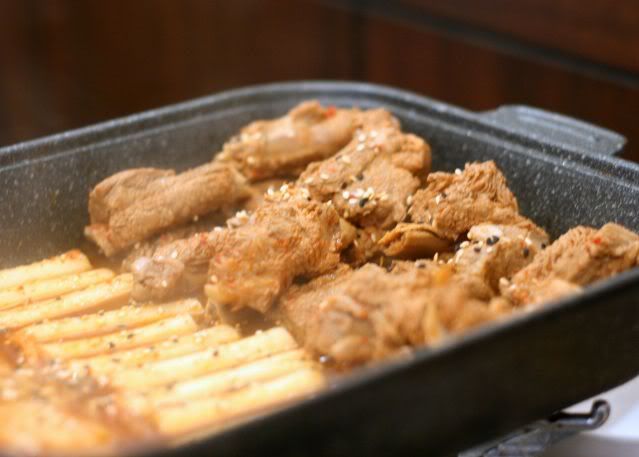 The meat was excellent, tender and falling off the bone, and very flavoursome. The accompaniment was some rice flour thingie, like chee cheong fun, only more solid, and yeah, cabbage. The Koreans love their cabbage huh. Yummy. Had I known, I'd have skipped the congee altogether.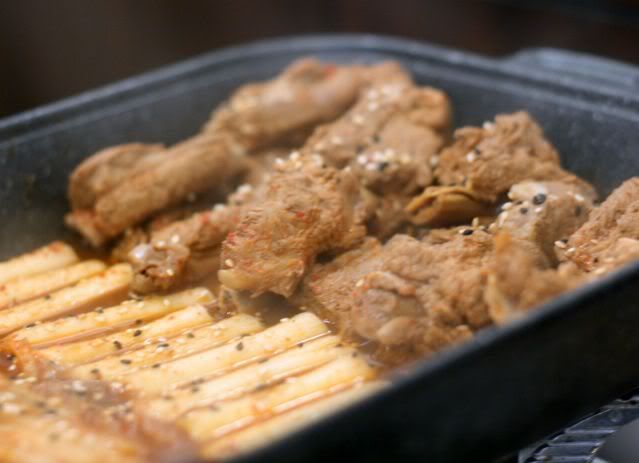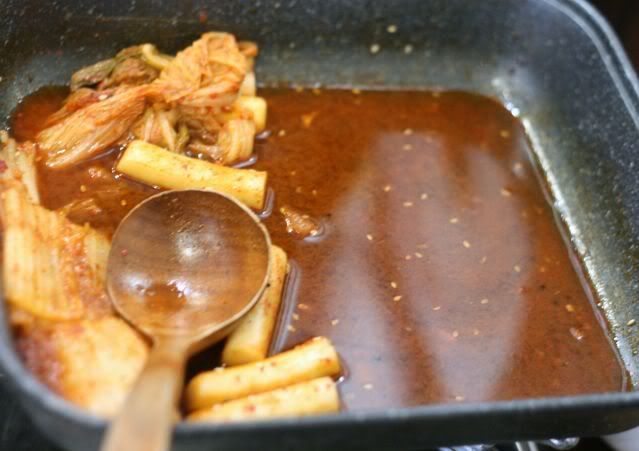 Despite moans and groans of how stuffed we were, we still managed to polish off the ribs....bearing testimony to how good they were.