"Taste is the Sum of Quality, Experience and Imagination"
- Chef Heiko Antoniewicz
The full title of this post should be, School of Hospitality, Tourism & Culinary Arts (part of KDU) proudly presents .....da da da...
I was delighted when Chef Ryan Khang and the team from My Nourishment magazine invited me to join them in VERY limited places, for the above mentioned dinner. I never knew that within those hallowed halls of KDU, there is also a dining room that's set up restaurant style, for simulated restaurant dining experience, complete with full bar even. As I hesitantly walked through the gates, a group of eager beaver young chefs wannabe chirpily asked, "here for the molecular gastronomy event?", and proceed to guide me to the dining room. The place is decked out like a restaurant, complete with candlelight and centrepiece flowers. Candlelight? In this day and age? In any case, I cant understand why candlelight dinners are considered romantic. It makes for terrible lighting, there's a symbolic fire between you and your loved one, and its a waste of wax. Bring on the bright lights, where one can see what one is eating, and the expressions on your date.
I digress. Yeah, gawd, sometimes I wonder if all chefs are good looking. Life's quite unfair isn't it, they are bestowed with looks and talent. He's also a Michelin Star chef. I think he had links with El Buli, etc.... oh, yeah, this post is just a teaser... as I am supposed to be writing a proper article for MY NOURISHMENT. No free lunch, or dinner, as they say. But worth it.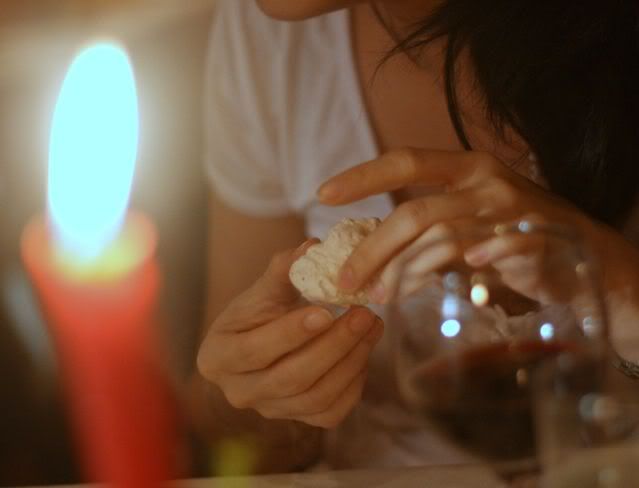 My Nourishment is obviously involved in a big way, as the chefs even wear their name on their sleeves. Its like wearing your heart on your sleeve huh.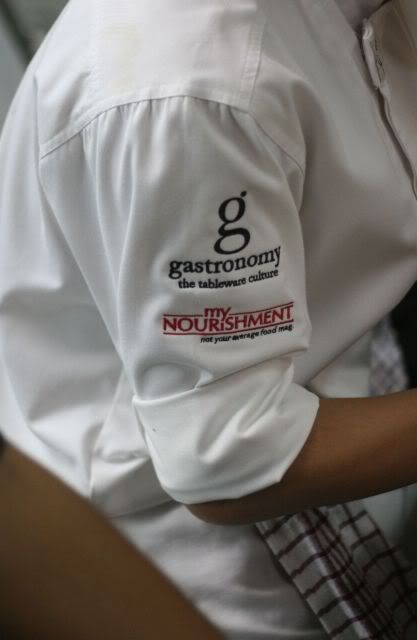 First, the preamble... launching of Chef Heiko's book. The book was encased in an ice sculpture, and the boss of KDU had to chisel at it, to launch it.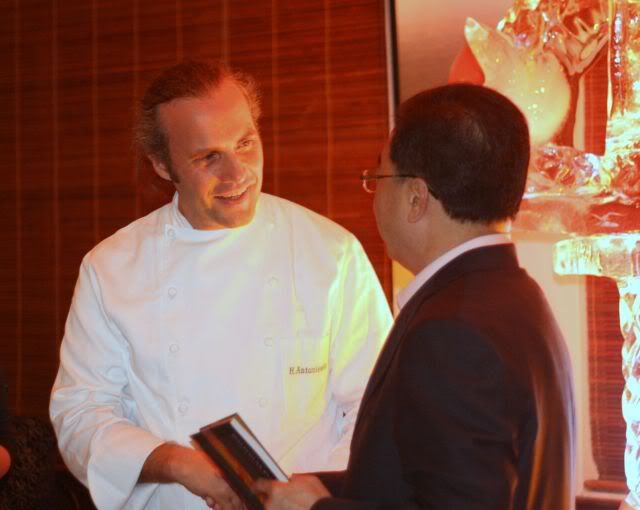 One of the best things about this was that we were privvy to the goings on in the kitchen, and were allowed to waltz in and out freely snapping away. Well, it really is a mini hell's kitchen, with the chief chef barking orders etc, minus about 98% of Gordon Ramsay's colorful language.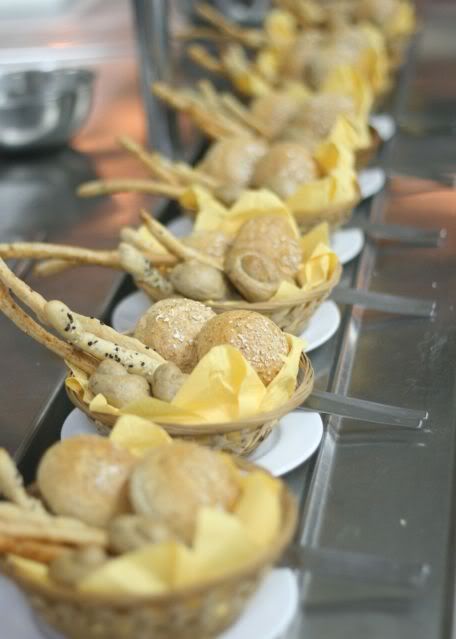 The one barking wasn't Chef Heiko....he seems like a rather affable sorta chef...even smiles while he works. Having said that, I do not mean it in any derogatory way, about the chief chef barking orders. It is, of course necessary. Gosh, the assembly lines are like with military precision. No wonder you need a Sergeant Major to bark away.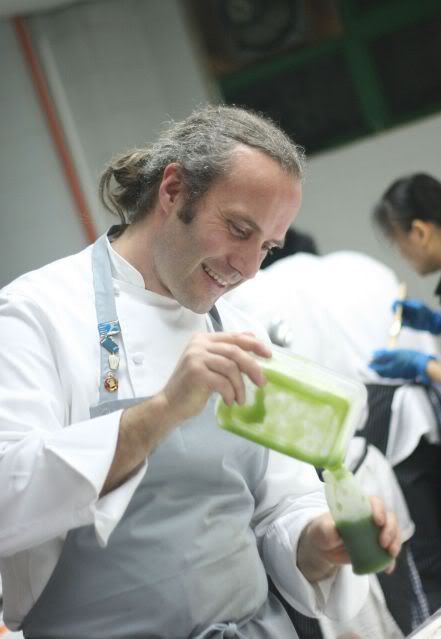 Truth be told, being the culinary plebian that I am, I wasn't entirely sure WHAT all this MOLECULAR stuff was about, and assumed it referred to the serving portions. After all, that looked like a pretty molecular sized piece of salmon, on a rather unmolecular sized plate.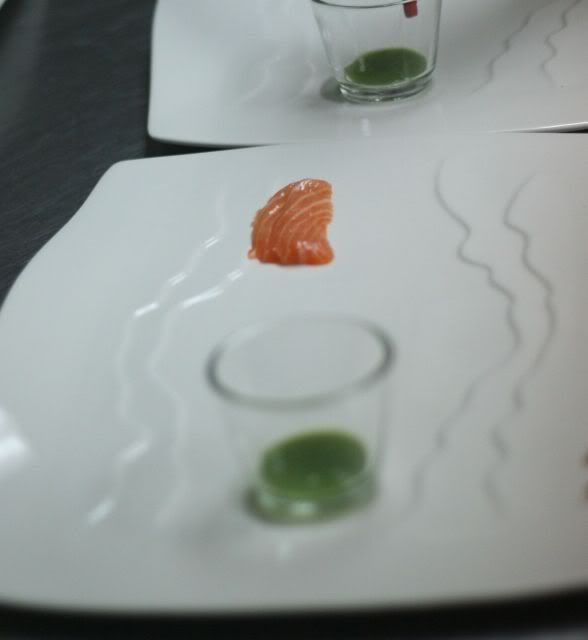 But I was wrong, of course. You can read the proper definition as defined by Wikipedia, here. The portions are far from molecular sized actually, and I was soon to be a convert.

There's a lot of fancy gagdetry and equipment involved, so I guess it's not going to be something you replicate in your kitchen.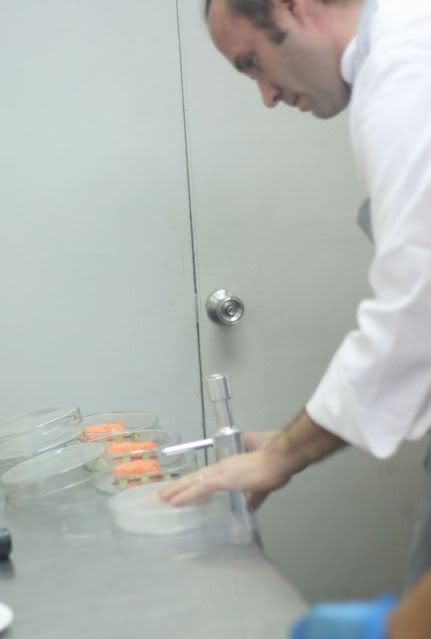 I haven't seen a petri dish since my last Chemistry lab class in first year uni, which was ....err....before some food bloggers were born. (1984).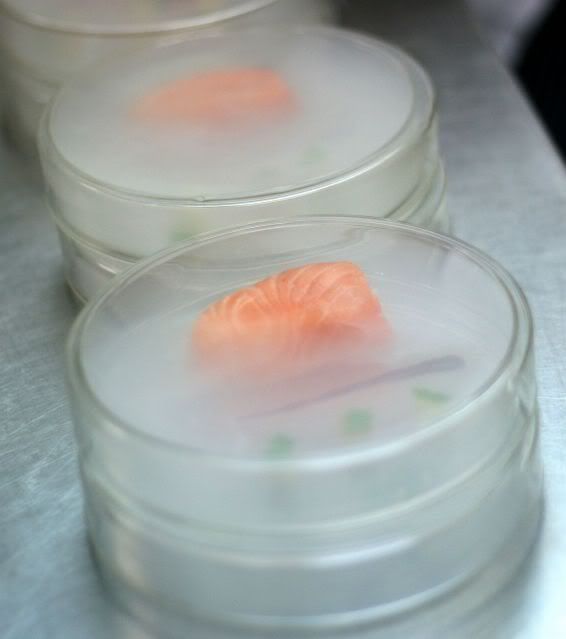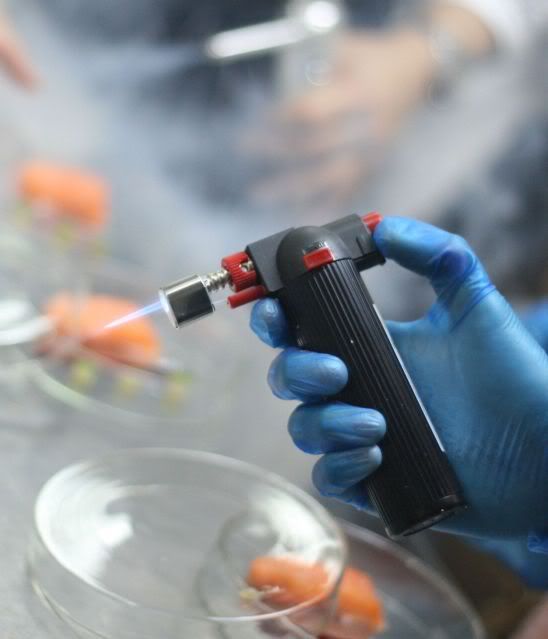 The above stuff was for the starters, which is Lime Infused Smoked Salon in Facets, Green Apple, Celery & Endive. Omigoodness, the flavours!!! I haven't had such a titillating sensation for quite awhile. It was enough to make any flaccid tongue perk up in anticipation.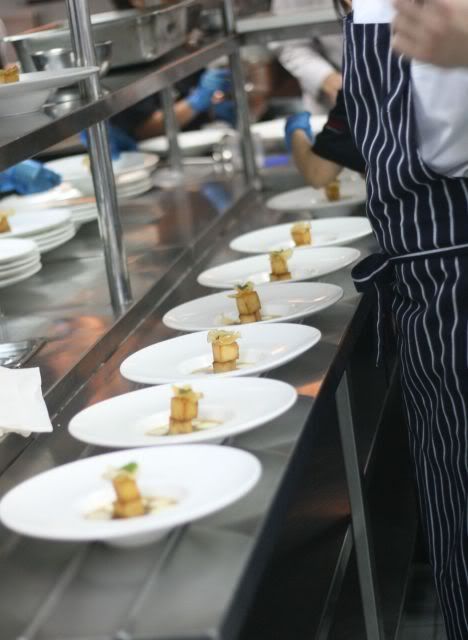 Our Roast Potatoes as hot pot, parsley. Floating in the soup were also potatoes that had been foamed, and a lovely piece of gelatinous green stuff, err...I forget what now, that had a lovely interesting texture that just stimulates the palate in ways I had never known.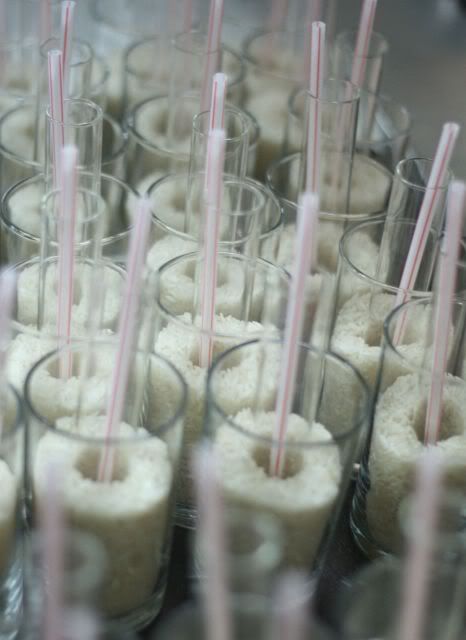 Of course, one was left with eager anticipation to see what these rice filled (beras, not nasi) glasses were for.



More fancy gadgetry, to produce foam.



The Veal Loin and Shank, cooked for 48 hours at 72 degrees, (48/72) was DEEEEEEEEVINE. Well, the loin was anyway. I thought the shank wasn't as nice as the loin. It was served with creamed spinach, and mustard egg. Ah, the mustard egg....a little gobule of taste sensations.... I almost felt like Harry Potter eating those magic sweets, where you don't know what flavour it is, and they pop in your mouth. Of coure, throughout this sublime experience, I was texting Thamby to tell her about it, and all I got in reply was, "I HATE YOU, I HATE YOU". We live n SUCH a hostile world I tell you.



Ah, food wizardry, literally. Making of a raspberry sorbet using liquid nitrogen.... at minus 120C, apparently if you put your finger in the liquid, it'll drop off faster than Bobbit's you know what. What a scary thought. I don't think I'll be stocking any liquid nitrogen at home.... mind you, what a great way to quickly get a cold drink. Or freeze your eggs, cryogenically. Or seed. Or whatever else.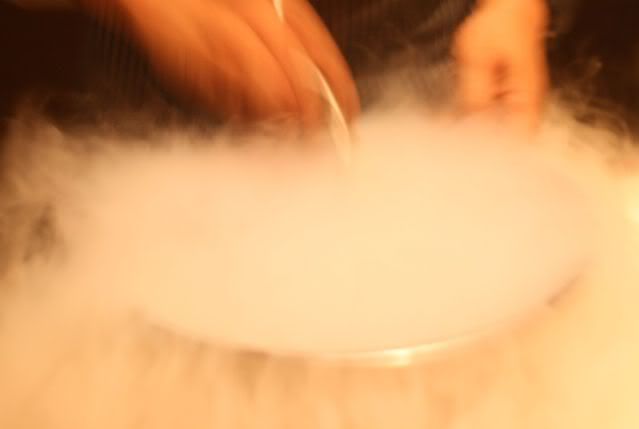 My life is now complete....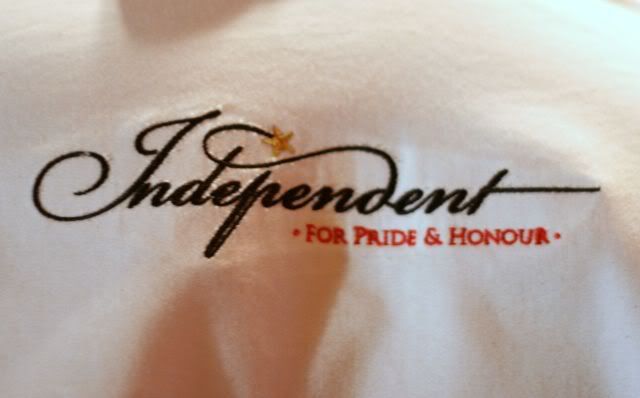 Oh, another slogan on the chef's costumes..... looks good....like something from the American Civil War...FOR PRIDE AND HONOR....



We were also given a tour of the new dedicated molecular kitchen in KDU, one of a kind in any culinary school in Asia, and possibly in the world. (I have to check my facts before writing the proper article, but since the readers here...well, are hardddddly sticklers for detail and accuracy, I just whack only)...

A special thanks to:
Chef Ryan Khang, doing a Nigella pose
......and the two pretty sisters from Cooking House and My Nourishment,a nd Chef Kenneth of KDU.