Since Bald Eagle wanted his party for the wife to be a complete surprise, we her friends were tasked with throwing as many red herrings as possible, in order to make her believe that there was really NOTHING planned for her 40th. As such, we had to offer to buy the poor woman lunch on her 40th birthday, convincing her that that was the only celebration she was going to have with friends that day.
So a handful of us dutifully congregate at the famed Din Tai Fung at the Gardens. For me, it was killing two birds with one stone. Losing my DTF virginity, (after I've heard so much about this place, both good and bad), AND buying the Queen DSLR birthday lunch.
It's hard trying to ensure no conversational slips. It almost happened. Of course I couldn't resist rubbing it in, "
you mean Bald Eagle REALLY not planning anything for you ah? You pore pore thang, and some more so few friends to have lunch
". At this point, she wanted to take pics with the people at lunch (we should've invited some strangers from the next table to make the numbers), when wife (mine) suddenly blabs, "
take pictures tonight la
". I promptly kick her under the table, and she audibly goes OUCH. Roll eyes. Lies and more lies. I send the wife a text message saying, "
I'm going to talk about Kajang next, play along
".
Casually I turn to wife and ask, "
so what time is dinner in Kajang tonight
". "The usual time, about 8", she replies. The rest of us talk about how let down we felt that we weren't in Monaco. (During some drunken feast, we talked about planning her 40th in Bali, but when she walked into the room, and overheard bits and bobs, we said Bald Eagle's planning to host it in Monaco).
Lies, and yet more lies.
"So, has anyone called to wish you yet?" "Do people even know its your birthday?" "Have you no friends?"
Meanwhile the food comes.

The famed siu long bao. Good, no complaints. Succulent meat, with a tasty soup, and nice skin. Apparently all have 18 folds, and chefs have to regularly sit for the Siu Long Bao folding exam. No 18 folds, its the chopping board for you.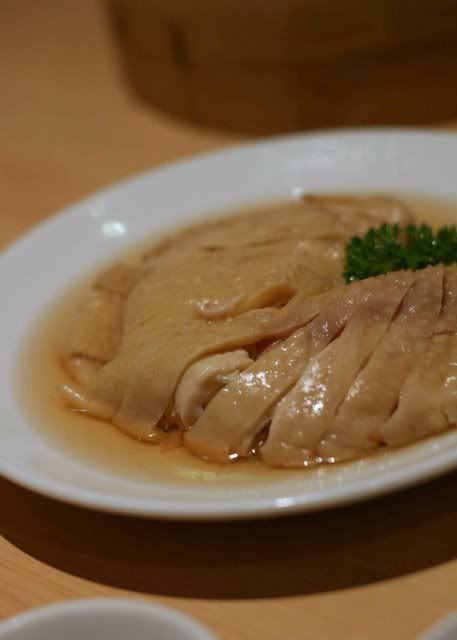 Some cold salted chicken. I like, coz the chicken seems like kampung chicken, and is a bit tough. I hate soft chicken.



"

So? Where's he bringing you tonight for dinner? You have no idea ah? Aiya, don't worry la, sure very romantic one, maybe Lafite

". If I were Pinocchio, my nose would have reached Cold Storage.

Hot and sour soup. Good stuff for a cold wintery day like yesterday. Gosh, there was enough rain to wash the entire government clean.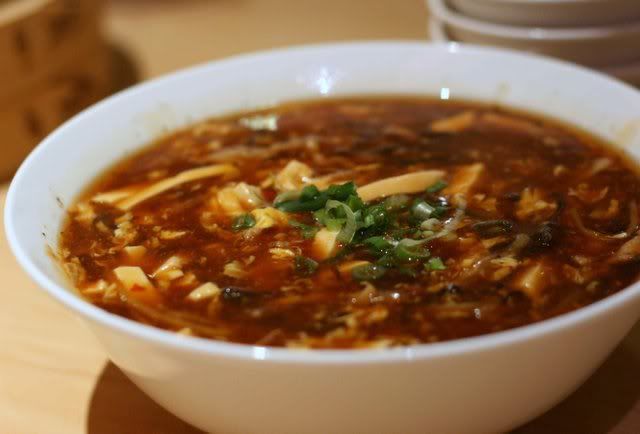 "
So...(glancing at the other couple), what are you guys up to tonight
?", "
oh, just a quiet night, possibly mambo jambo
"....
"
So Tim's coming for dinner this Saturday ya
" (another ruse, another dinner on Saturday to throw her off the scent)
The fried rice was nice to me, but wife found it oily and mushy. It must be the company that made everything taste good.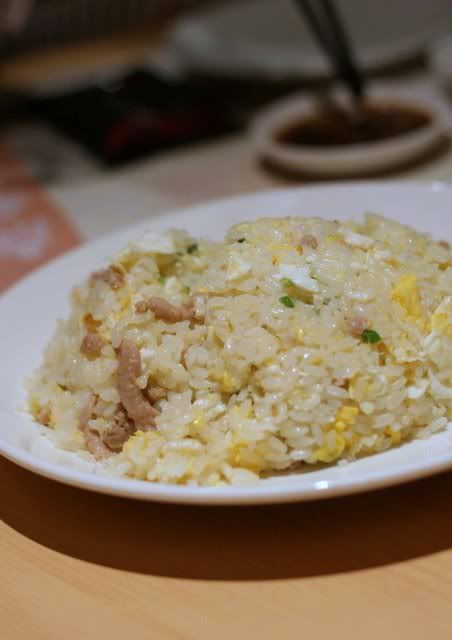 The cha jiang lai mien. Yummy. Noodles are perfect texture.
"
So you really want a pavlova ah? Okayla, I make for you on Saturday. Actually I wanted to make one for you today, but no time la. Also lunchtime how to eat so much
". (Truth was I had already made a huge Pavlova, with a lemongrass curd and a vanilla bean creme patiserrie, with strawberries, mango and blueberries)
"I don't have very steady hands", she says, when I ask her to hold up the wantan.
The wantan was yummy. Plump, full of meat and prawn.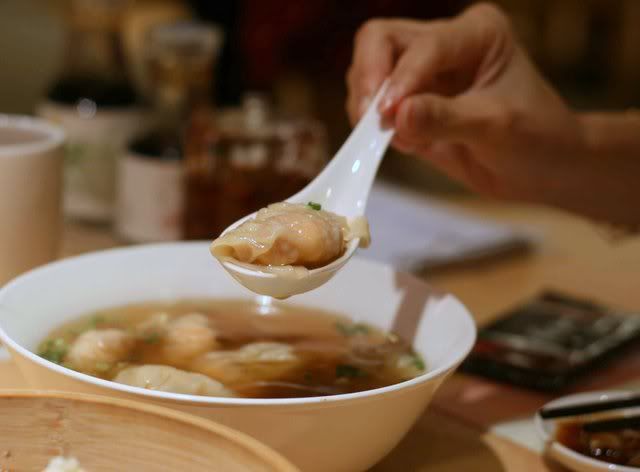 "Hypothetically ah, if you had a party, who would you invite?"
, I had asked her awhile back. Bald Eagle had actually sent me an email asking this. The long road to deception had begun. So, if you weren't on that list, you know who to blame la.
Buttered prawns, a crisp layer outside, beneath the sauce, but juicy fresh moist prawn inside.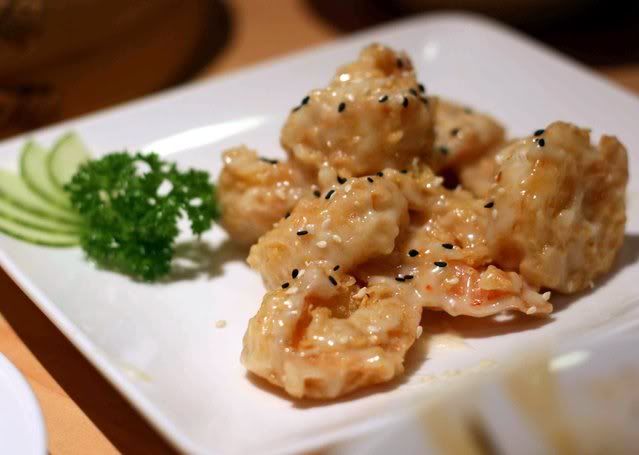 "You better sing that I've Never Bean to Me song for my birthday
"
, she chirps.
"When? Saturday ah?"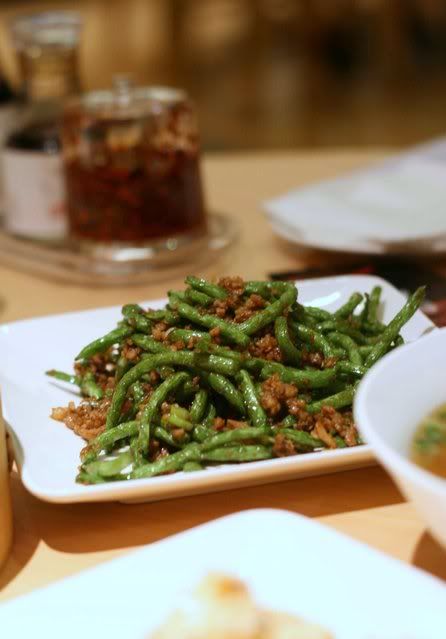 Long Beans Fried With dried shrimp and chilli. Lovely. Crunchy and firm.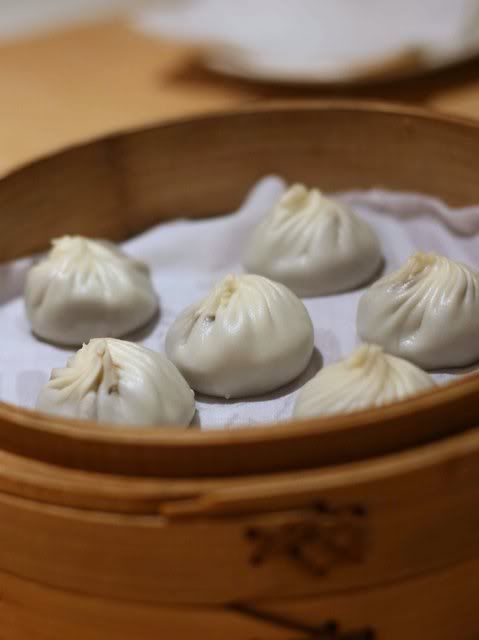 I have to say I absolutely LURVE these red bean buns. Thin foreskin, luscious red bean filling, absolutely delicious.



Unkaleong says on facebook:

Hmm..she has a knack for remembering cars and number plates. Or maybe it's just mine....but hope you lot don't plonk your cars in front of the restaurant and give away the surprise..




Maybe stating the obvious, then again I have been known to do that :P




Talking to her online now, she sounds really depressed..Hahaha and I'm rubbing it in!


*rubs hands together in evil glee*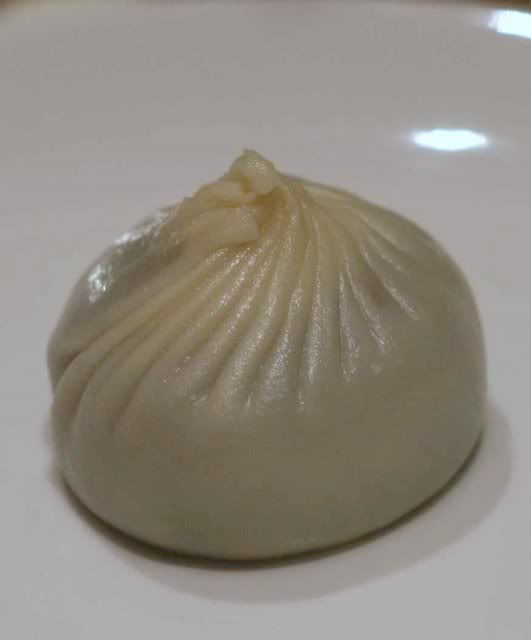 What have I become? A partner in crime?



Precious Pea replies:

Why is she depressed? Cos turning 40?? Hahaha..i had a short chat with her...you know, as 'sista' i have to at least have the courtesy of asking if she is free for dinner tomorrow. Hahahahaha!!!

Helpful suggestions from Paprika:

We will be there by 7:30 latest. Why dont you guys park at Radius International? She definitely wouldn't be able to spot your cars there.

Talk about snooping, one of the earlier threads from Unkaleong:

Man..A day without internet connection and come back to long thread...Of da course count me in. You know she actually asked me when we had dinner last Sunday, "You're not invited to any suprise parties thrown for me are you?"




Oblivious to the stress she was causing all around, she blissfully tongues the red bean bun before popping it down her esophagus.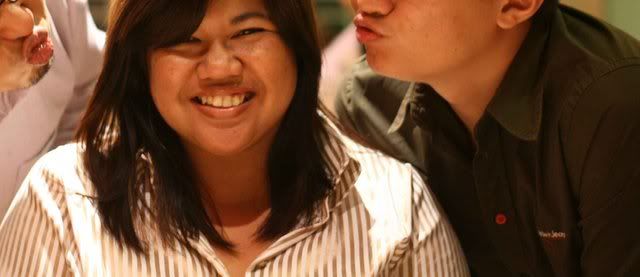 And what birthday celebration is complete without kisses for the birthday girl?

And it all began with this thread on facebook:


Hi guys, on behalf of Bald Eagle, the gallant husband (of Lyrical Lemongrass), we are invited to her SURPRISE party (so no one tell her) on 27th of august, wed.




Party is at 7.30, at Max Kitchen on the 27th...need everyone to be there by 7.30, so can bring her there by 8p.m.




RSVP please so I can notify him. Alternatively, give me your email addresses, so I can forward to him. Just realised I dont have most of your emails.