While there may not be much to do IN Ipoh there's lots to do in the surrounding areas. There's Gua Tempurung, Lata Kinjang waterfalls, some smaller waterfalls off Kampar, the cave temples, AND of course, Taiping. Where? Hallo, it's my birthplace, I'll have you know. Taiping, as its name implies, is a serene, and peaceful town. It was also my first official workplace. I remember bemoaning the fact that I was in exile there, when one of my friends, who hails from there, said, "YOU SHOULD PRAISE GOD YOU'VE BEEN POSTED TO TAIPING". I think I almost turned atheist at that point.
Day 2 of our CCM. (Cuti Cuti Malaysia). Breakfast at some coffee shop in Gunung Rapat, supposedly famous Ipoh Laksa. Rather yummy. Resembling Sarawak laksa, though less coconuty, (in fact, none, apparently), it is a fragrant, subtly tangy soup, with three kinds of meat. Chicken, Char siu and siu yoke. Very good way to start the morning.
The Taiping Zoo and Night Safari trumps Zoo Negara (Not that it takes much) hands down, and really its a pity that there isn't more publicity. Located on the fringe of the famous Taiping Lake Gardens, the zoo is beautifully landscaped, and boasts a wide menagerie of exotic creatures. I used to like animals only if they were on a plate. But since picking up diving, in 1993, I have grown to love God's creatures.
Clockwise: Some deer wading through a algae filled pond, three lionnesses sun bathing on pride rock, while the male sleeps, (that should be the way), the rhinos (check out that ass), and a sun bear. I intend to visit the night safari the next trip.
Boating in the lake gardens is a pleasant and enjoyable activity. The lake gardens are probably the most beautiful in Malaysia. Juxtaposed against the thick mist enveloping the mountain range in the backdrop, all that was missing was a picnic basket with a bottle of champagne, cold roast chicken and chocolate cake.
I would be quite game to organise a gourmet picnic at the Taiping lake gardens. Didn't get to sample the famous Taiping popiah and wantan mee, as we were too late and everything was closed. My bro in law's GPS led him to a restaurant called Kwong Wai San, which coincidentally was where my parents celebrated my full moon back in the 60s.
Dinner was at a Peranakan joint called Yum Yum, back in Ipoh. Quaint little joint, with lots of antique nyonya furniture.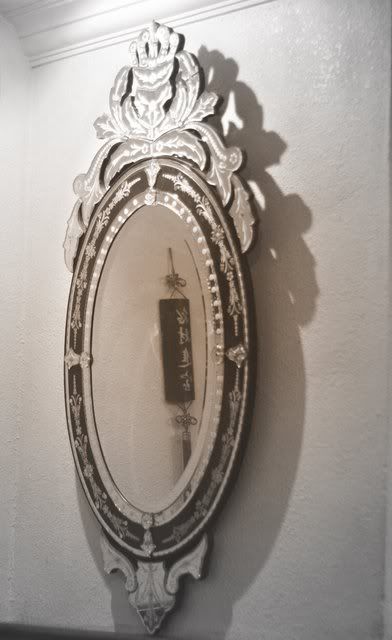 Magic Mirror On the Wall, Who's the Fattest of Us All?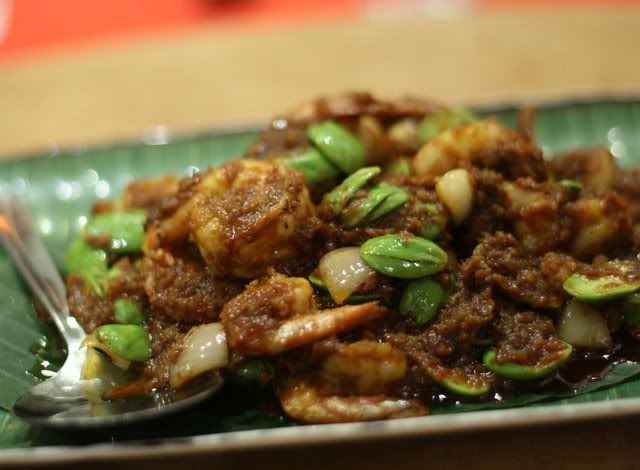 Mmmm, petai and prawn sambal. Absolutely divine pairing. Problem with peranakan food is that it goes so darn well with rice. And we all know how EVIL rice has become in the last few years. NO RICE, I hear the dieticians scream. NO CARBO for dinner. Sheesh, chill man.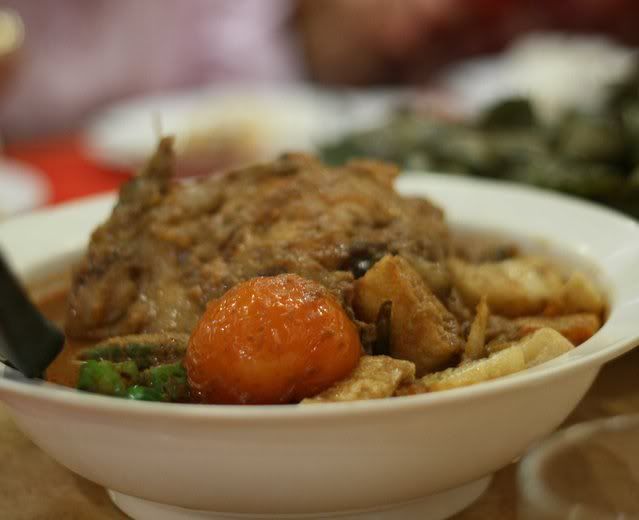 Fish head curry. Again, another must eat with rice dish. Lovely rich curry, with generous complementary taufu pok, okra, etc.



Pandan chicken, a bit different from the Thai counterpart. Very tender, and a bit tangy. I thought it was meant for the adults, but the minute it arrived, the kids swarmed like locust and finished it. (not my kids).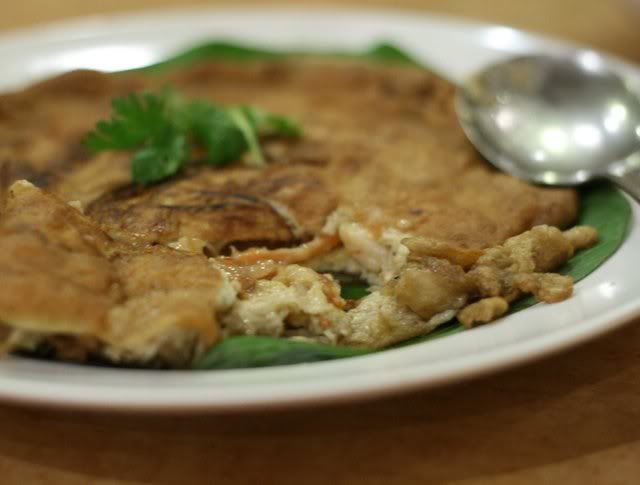 Omelette, .....well, you cant really go wrong with egg.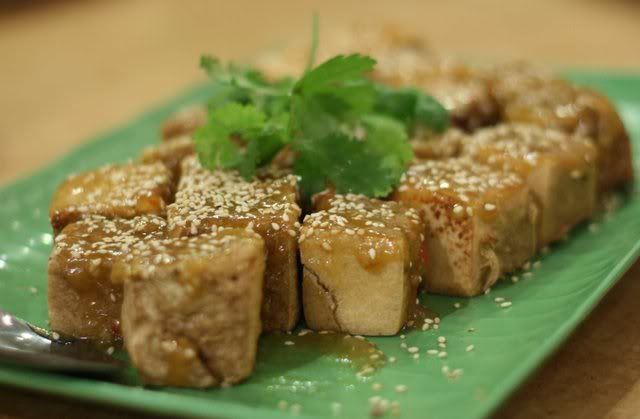 Deep fried taufu with a tangy sauce. Didn't care much for the sauce, but the taufu was nice.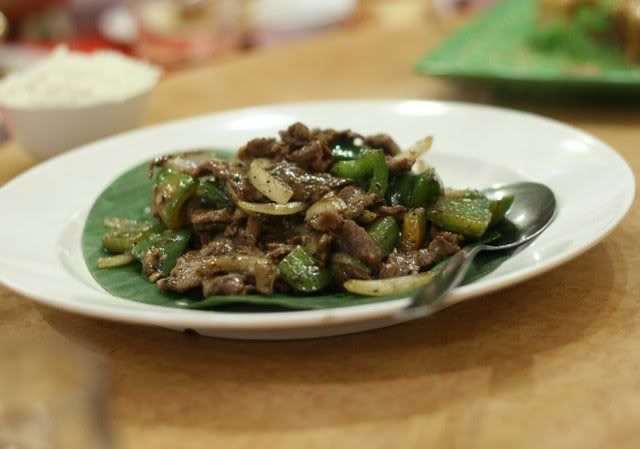 Ostrich in black bean sauce. If you didn't tell me it was a bird, I'd have thought it was good tender beef. Excellent.


Now, I've heard about this place years ago, when friend raved about how divine and orgasmic the chocolate cake is. So finally, I get a chance to try the famous chocolate cake from Indulgence. They supply to royalty, it seems, and the restaurant is housed in a gorgeous colonial mansion, not unlike in Bon Ton style.
I think setting one's expectations too high is almost always a bad thing. I remember once my schoolmate in form 4 told me that he always sets his expectations low, so he wont be disappointed. What a terrible way of wading through life.
But yeah, there's something to be said about setting high expectations for desserts. Nuff said la hor. It's edible, and tastes okay. But I failed to experience the O word...in fact, far from it. Oh well. Maybe it had been sitting on the shelf too long.