[HAPPY 30th BIRTHDAY, TO THE INIMITABLE QUEEN OF DSLR, LYRICAL LEMONGRASS. MAY YOUR PICS AND PROSE CONTINUE TO MOVE MULTITUDES TO TEARS]
as I was saying,
Sushi Dokoro Maeshima
......what a mouthful for a name of a restaurant, which is more than I can say for its servings though.
In honor of the Budapest Babe, we met up for dinner at SDM, in Federal Hotel. Traffic on that Friday was horrendous, and almost everyone was late. Lemongrass was there, looking regal and as if she owned the place.
The usual complimentary appetiser. I think one could write a book one these alone, as every restaurant seems to serve one of these, but they all one one thing in common. Cost wise, I think its usually less than 20 sen. I mean how much can a few scrunched up greens and few grains of sesame seed cost. I also wonder if its complimentary or are they like the chinese restaurants, where you are charged per head regardless.
Because it was a cold wintery night, in KL, the alkies decided some hot sake would not go amiss. Me and sake, we go together like ramala alaala ma ga dingie dong.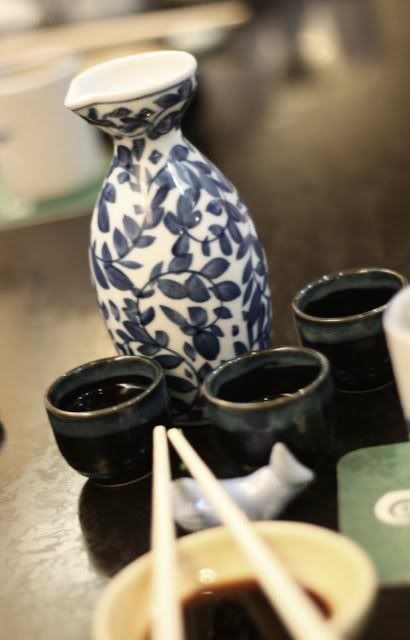 The sashimi platter .... well, the quality is no doubt superb. But I think this platter costs RM 215....for as you can see, not a very large amount. To the plebian like me, who can't tell one dead fish from another, it was akin to being slaughtered myself and served as sashimi. Albeit a fatty platter. However, outstanding were the sashimi scallops, succulent and sweet. And the tuna belly. All of one slice.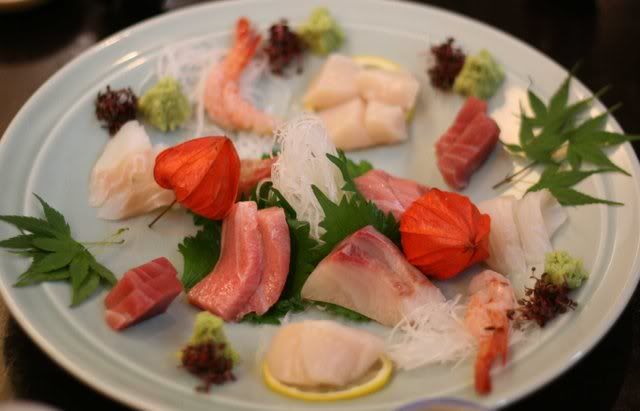 I'm not sure what this was, looks like sushi with egg. The most fascinating thing about this dish was the decoration on the plate, which is that flower that has dried, but not pressed.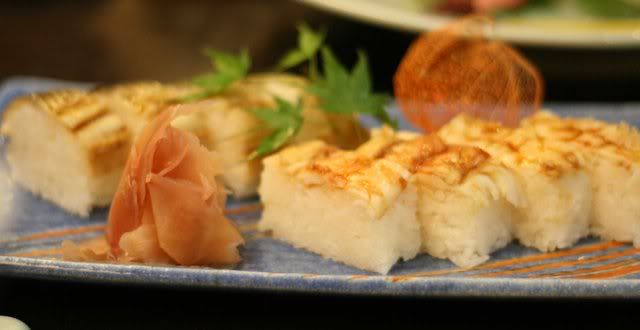 You know how pressed flowers and leaves just leave behind their veins.... but its pressed flatter than some women's chests... but this one is kept in its 3D form. Fascinating. Omigoodness, we're paying for decor.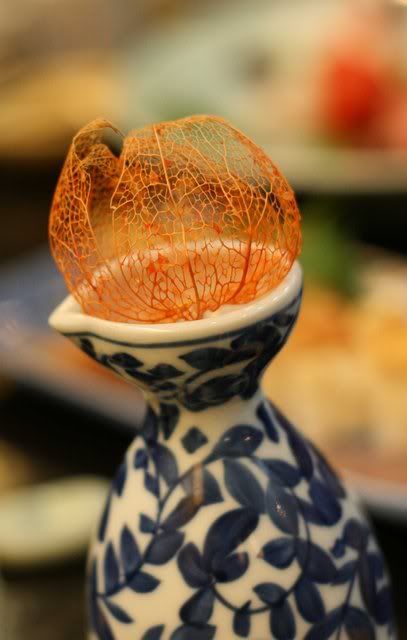 Okay, the saba shioyaki was very reasonably priced, and tasted very good. Exceedingly fresh, and grilled to perfection.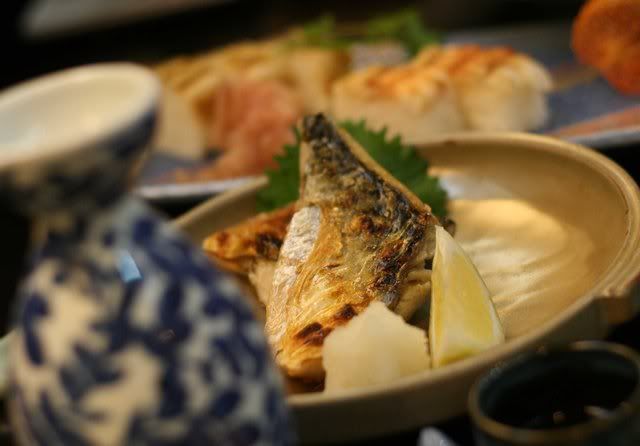 I'm not sure what are these, but they remind me of chicken nuggets.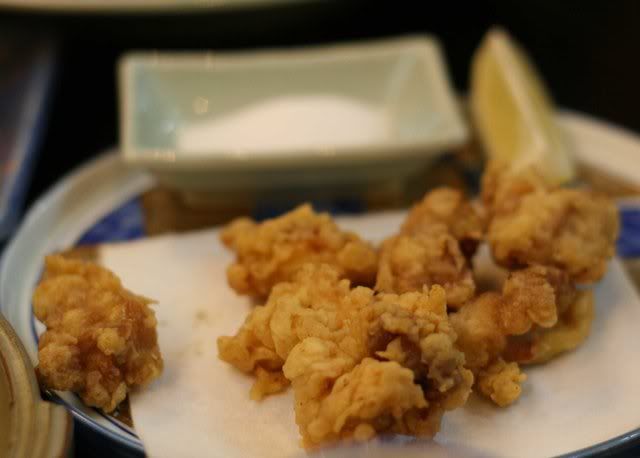 With luscious lips like these slurping up the chawan mushi, how can one resist. (the chawan mushi, not the lips). I had to order one too. In any case, as I said, it was a cold wintery night. Nothing like warm egg to fill a still famished belly.




The tempura was good, but nothing to shout about. For RM30, I can't really give accolades for generosity.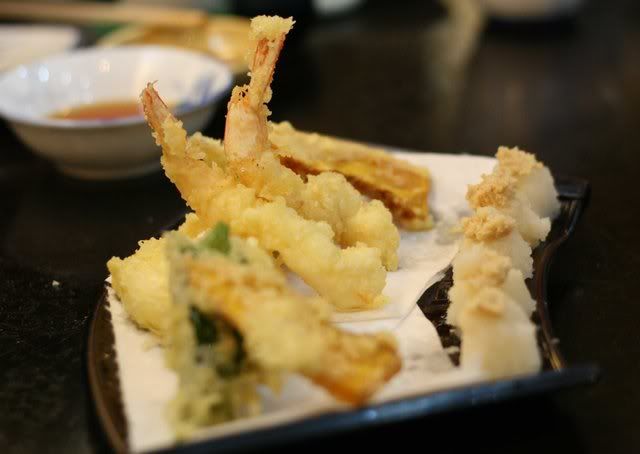 I'm not sure if they had run out of egg by the time we ordered our Chawan Mushi, cos it was only half a cup, as opposed to Nigel's 3/4. Even he remarked, yerr!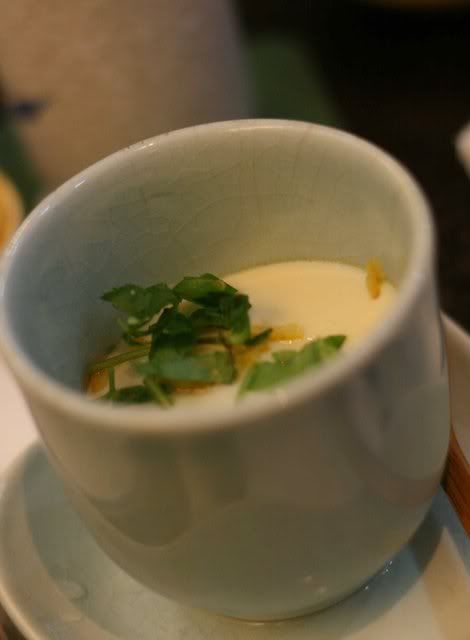 By this time a few of us exclaimed shock and horror when told that THAT WAS IT. Carbo filler time. So added the fried rices to top up. This one here is the plain fried rice, ie, rice with egg. Hats off to the chef for turning something so simple to something so delectable, hence the ability to charge RM8 per bowl. Fan chow fan. Likewise with the garlic fried rice below.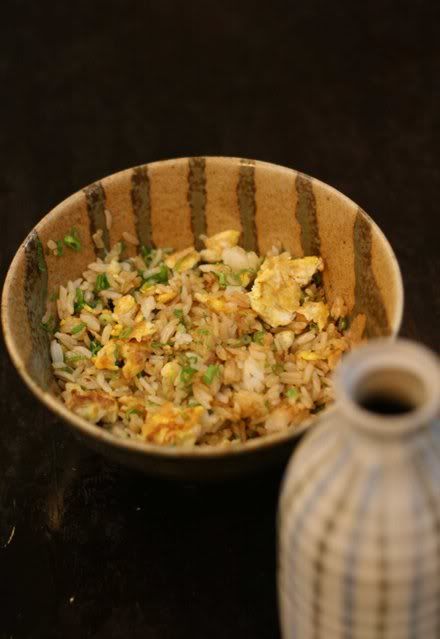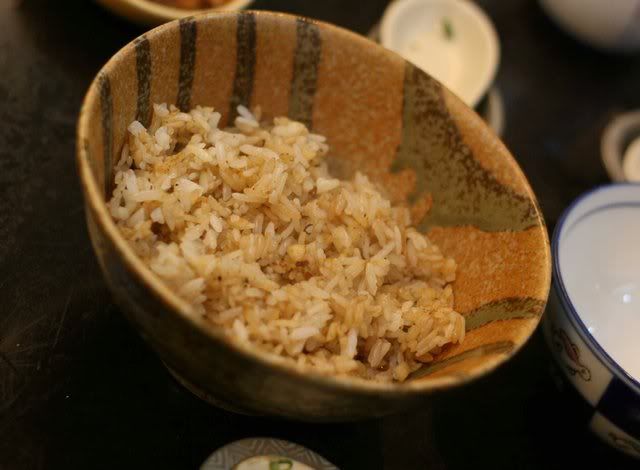 Ah, if I had to pick a favourite of the night, it would be this. Home made, home pulled noodles. Excellent. The texture of the noodle is perfect, crunchy, rubbery without being overly so, ...really quite special. And I'm not even a fan of cold noodles. I think it was Nigel who said there was something primevial about dipping noodles in soup like that communally and tucking in.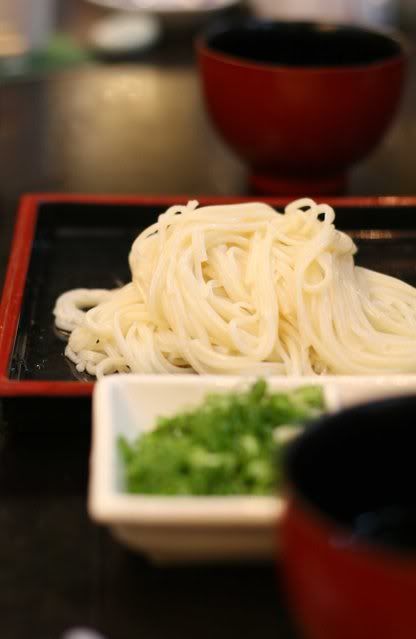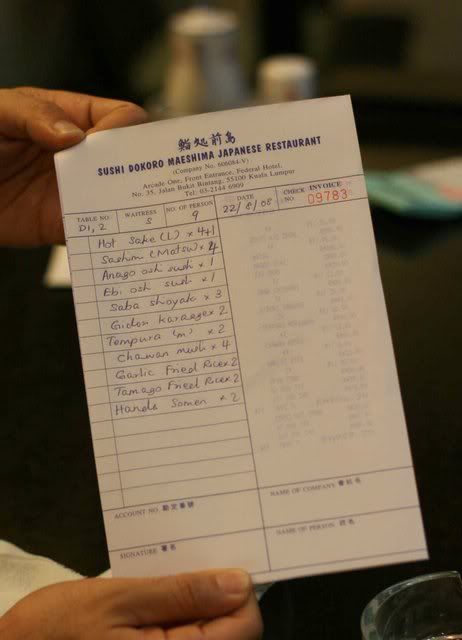 So, the dinner worked out to RM90 per head, without sake, and RM110 with sake.



At least I had a chance then to justify losing my virginity at AH NGAU, since I've never had it before. I had skipped lunch, so those dainty morsels of raw fish and chicken nuggets really were not enough. Nope, not even the 2 spoonfuls of fried rice.

To be fair, I hear from reliable sources that their OMAKASE is to die for. RM250++, and you're guaranteed satisfaction, both on the tongue and in the belly. Apparently its really good value for money. Well, since I am no Japanese food connoiseur, it will be a snowy day in KL before you see me part with nearly RM300 for that.

However, it was worth the price to pay to meet up with Budapest Babe, and the rest.