The first stop in our gastronomic adventure was actually at the Food Loft in Central World. A stroll down Saladaeng Rd from our palatial ALL SEASONS HOTEL, Sathorn, (always remember, ALL is better than FOUR) revealed a whole array of interesting eateries, including Zanotti's, which was where we were headed for a birthday celebration later in the trip.

After taking the BTS, and having just literally stepped off our monorail less than an hour ago, I feel its like taking a sampan after having sailed on the QEII. But let's not bitch about our horrendous local public transport, or the screens might melt from the vitriol that will pour forth.

So yeah, no pics in food loft, but it is an amazing food court. From the payment system to the variety, and quality, and interior design, it really makes you wonder why we can't replicate such success models. Anal though, about the picture taking. Can't see the rationale.

The first documented meal therefore, was at this charming little place, called THANG LONG (probably chinese for lantern) in Lang Suan Road.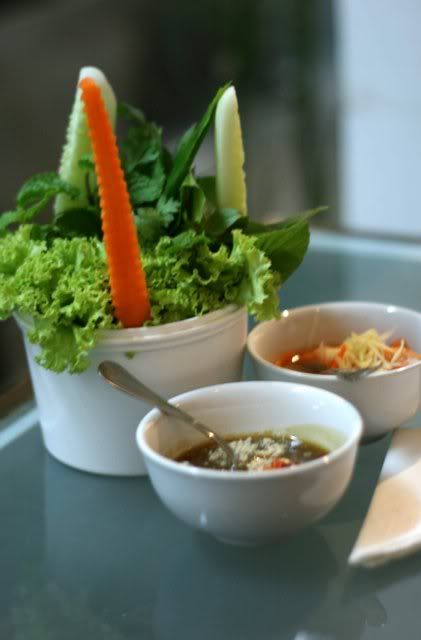 No wonder no fat thais. Look at the starters. Even the dips are healthy.



I think it was probably a fusion place, coz I'm pretty sure these are Vietnamese. You see, after a few glasses of Johnny Walker Green Label as a pre dinner drink, memory becomes hazy.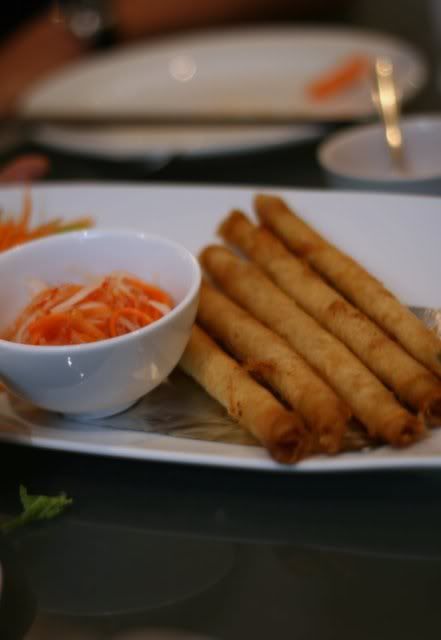 Some kinda spring roll, (do you know Malaysians have a thing for stating the obvious? They see a dead body and go, "oh, dah mati ya")



Lovely deep fried PORK with vermicelli. Another very appealing thing (for me) about Bangkok Cuisine is the ready availability of that very non kosher meat. It's everywhere, from the roadside skewers (SKEWERS, not SEWERS), to fine dining restaurants.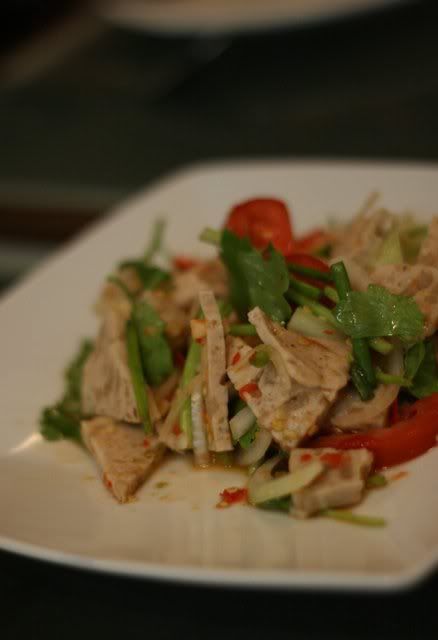 Some salad-ish thing. Gosh, I really should write down what I eat if I intend to blog about it. But I know I have forgiving readers.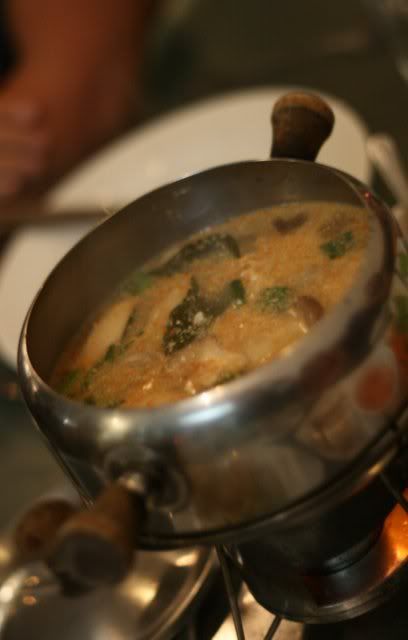 Tom Yum, which was VERY spicy. A lot of kick. I likey.



Deep fried fish with an elaborate emebellishment of deep fried lemon grass...yes, it is possible to deep fry lemongrass. (the spice, or is it a herb? not the blogger)



Cockles with a thick layer of chilli paste on it. Phwaaaah, enough to ignite even the most frigid of people.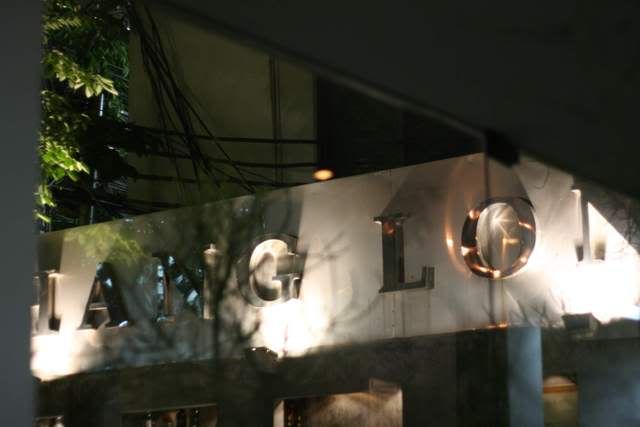 Thang Long exterior and interior.




We decided to adjourn elsewhere for dessert. And settled here.



The desserts here were above average. I forgot to take a picture of my own dessert, which was an almond orange cake, a sponge with orangey custardy filling, and a lovely icecream. The profiteroles down below were a tad hard. The warm chocolate cake was good, but not enough to send you running to the toilet to clean up your ahem, ..... cream.




Can't remember what the pic below is. But all the desserts, as I said, were good. Can't complain, except for the profiteroles, which were a bit hard.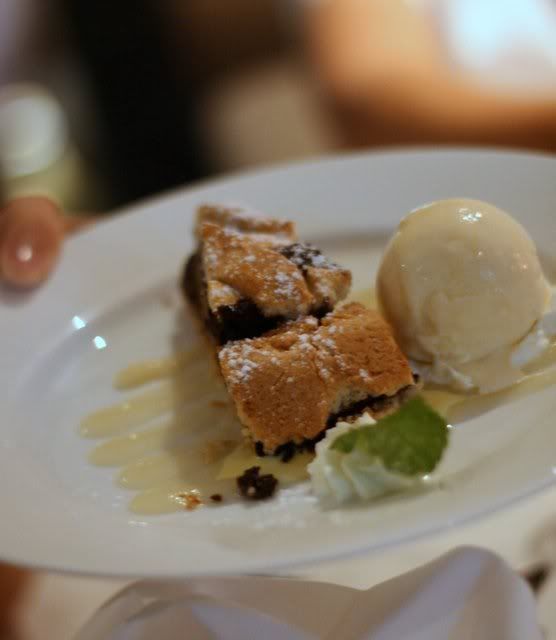 I was going to blog about the entire culinary experience in the one post, but I guess even I myself would not have the patience to download the pics. So, stay tuned? I hate that phrase. So, until I get inspired again to share with you my deepest most meaningful culinary experiences, adios.