Snigger. On the flight back, I was farting like a leaking zeppelin. I overheard the woman at the back me tell her travelling companion, "Dammit, someone has been farting non stop", and the reply was "how rude". Well, that was revenge, for them talking at the top of their voices throughout the flight. I wanted to turn around and go, "Yahor, I oso smellit....who could it be". I tried to induce one more for the road, but alas, even Saudi Arabia's Gas Reserves will one day be no more.
For the benefit of Hairy Berry, yup, Saladaeng Station does indeed lead to the infamous Patpong. But being the holesome food blogger that I am, we only went in broad daylight, and this is what you see. A nondescript street that could be in Kampar for all we know. Apart from the tell tale signboards, the tranquil street in the day belies the prolific nocturnal activities.
Continuing with the culinary capers, well, on day 2, we were on our tour of the Floating Souvenir Shop, the Bridge of the River Kwai, and Tiger Temple, which had lunch thrown in. A very picturesque restaurant actually, overlooking the river (kwai, presumably), .... except for the blatant discrimination!!!! And we thought apartheid was dead!!! Firstly, all WE got were these few dishes. Fried Paku Pakis (wild fern), Sweet Sour Chicken, (not even pork!), Omelette, and Spring Rolls. The NEXT two tables, even before they arrived, were served cauldrons of tom yam, fish, chicken, ..... of course, they were gwai lows. (not meant to be derogatory here, but for want of a better description....the grouse is against the shop owner, not the tourist). AND, the cheek of it, when that other entourage arrived, suddenly fountains came to life, the waterfall in the toilet also started flowing, ...... sheeesh!!!!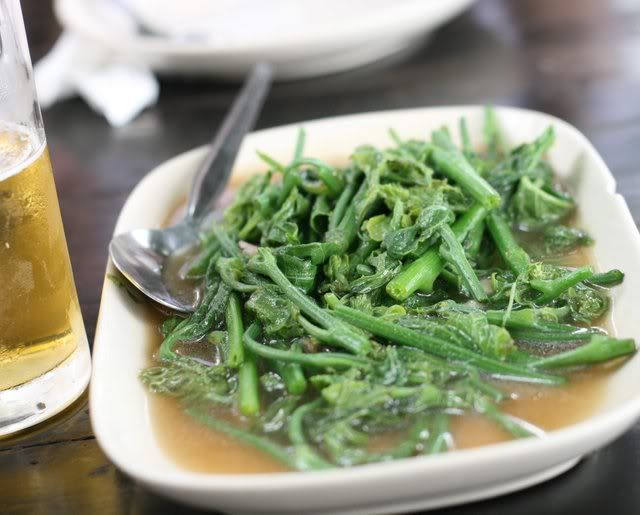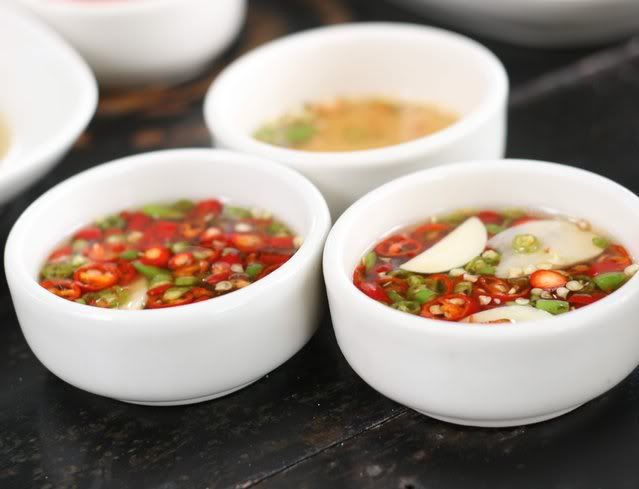 We then threw a tantrum, believing our guide had taken us for a ride, afterall, for RM250 per head for the tour, SURELY we deserve better food than that!!!! He said we may order one more dish.....so this was it. The pandan chicken. Fortunately the Singha beers were cheap, and nothing mollifies a hot and bothered tourist like a cold icy glass of glorious beer. Overlooking the River Kwai, slight buzz in the head, and a bursting bladder, suddenly the world looked fine again. [And that annoying theme from the movie kept whistling in my head]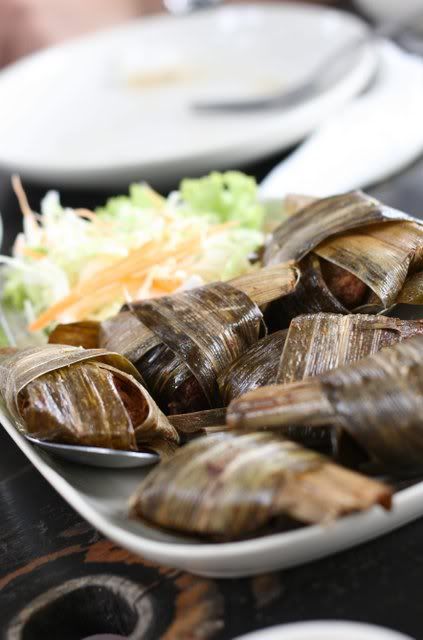 A great thing about AirAsia GoHoliday packages is that breakfast is included. In certain places, like Jogja, one is thankful one doesn't have to forage the streets for the morning meal. In Bangkok, it wouldn't have been an issue, but nevertheless, there is something inordinately comforting about being able to rush back to your room for unsettled business immediately after breakfast.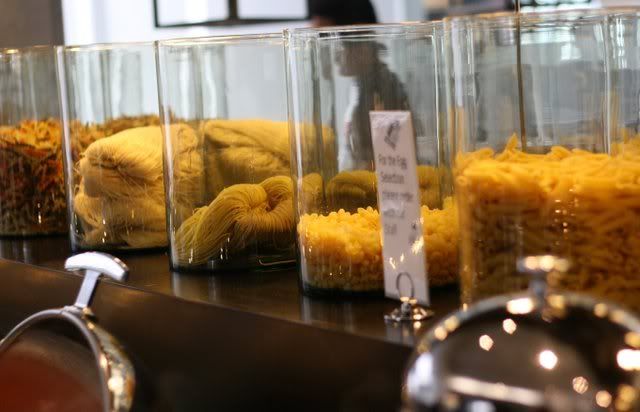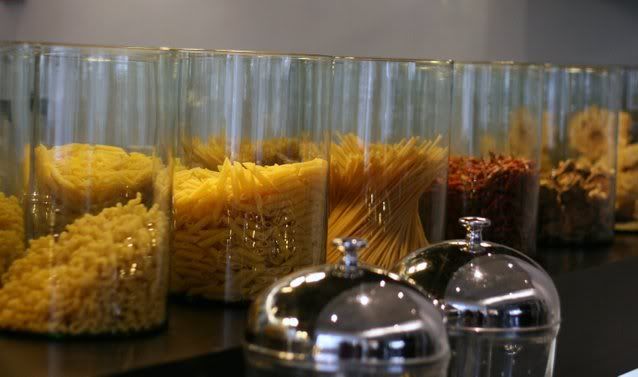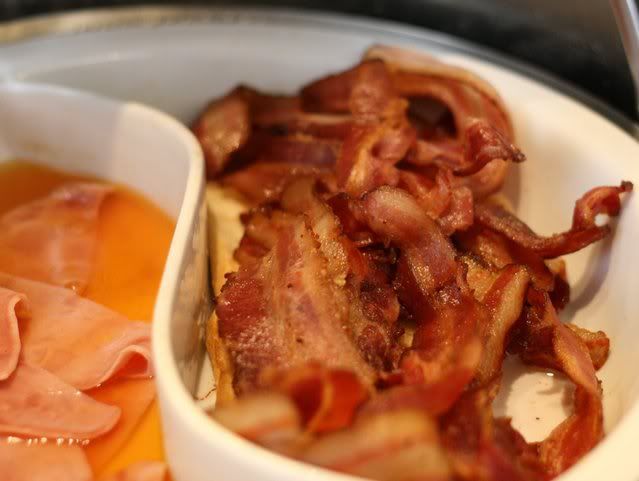 Bacon galore for breakfast, and eggs to order. Life simply cannot get much better, ....again, don't forget, ALL SEASONS is better than FOUR.
This restaurant, Zanotti, is the other place that didn't allow pics of food and menu. Roll eyes. We were celebrating friend's 40th birthday there. The food was good, but since they don't allow pics, I shan't bother talking about it.
Another AMAZING thing about Bangkok is the cornucopia of gourmet food, both local and imported. Price wise, imported stuff is more expensive than here, by far. A block of Anchor butter costs nearly double. (and that's not even gourmet). The food halls in Siam Paragon is enough to induce minor spasms of delights. And if you were hungry, looking for a quick fix, well, just go around sampling the stuff and you'd find yourself full in no time.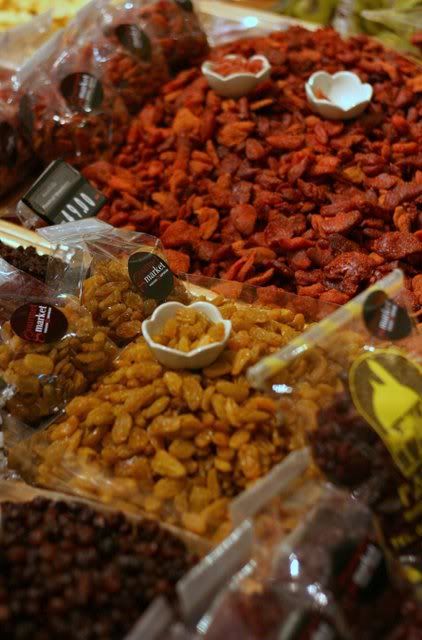 Despite being stuffed on free samples, (and the buffet breakfast), travelling companions decided it was lunchtime, and no more food courting, (as in going to food court), so we ended up at a restaurant in Siam Paragon, the name (I think its called Cafe Chilli), and had another interesting semi thai cuisine lunch.
Pork wrapped around red glutinous rice. A bit too meaty for me. By this time, I was ready to don on saffron robes and become a vegetarian.
Lard filled wontons. That was the name on the menu!!! But it wasn't just lard, thankfully. More pork. If you are what you eat, you may now gracefully call me Elmer.
Yet more pork. Pork balls (as in balls made from pork, not Balls of Pork) in a tangy soup. Snort, grunt, oink.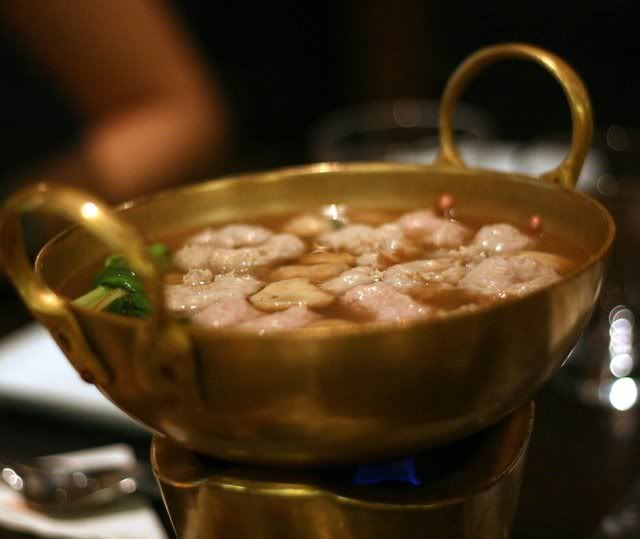 Oh, Thai Beef Salad. I have never been so happy to be rescued by a cow before.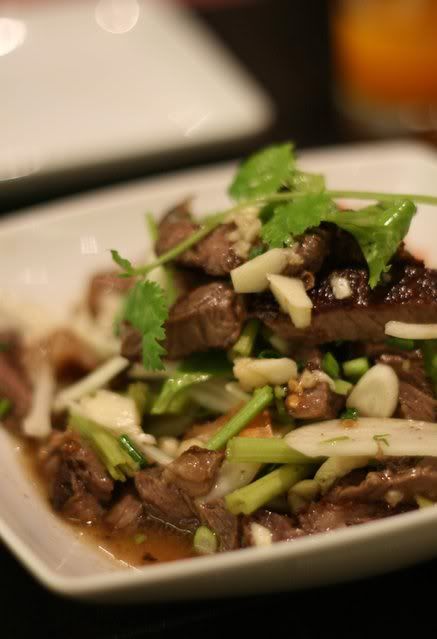 Red glutinous rice served in dainty little woven basket boxes.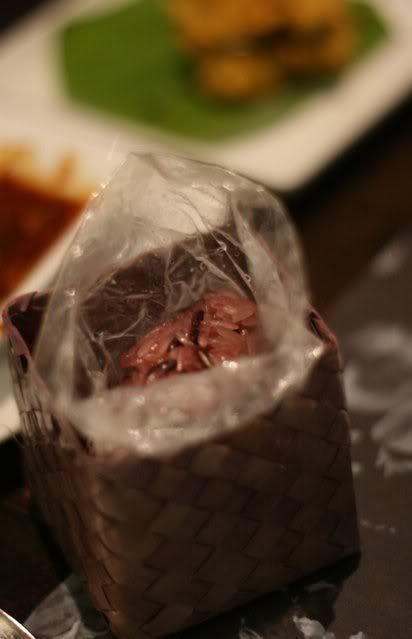 The mandatory green papaya salad. Absolutely divine. Crunchy nuts, fish sauce, yummy young papaya. Ah, what a break from all that meat.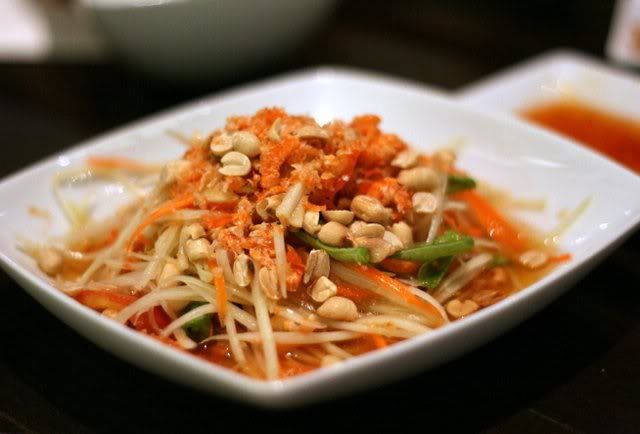 Even the roadside fruit sellers seem to be more attractive than ours. As in, their variety and presentation. Where oh where have we gone wrong?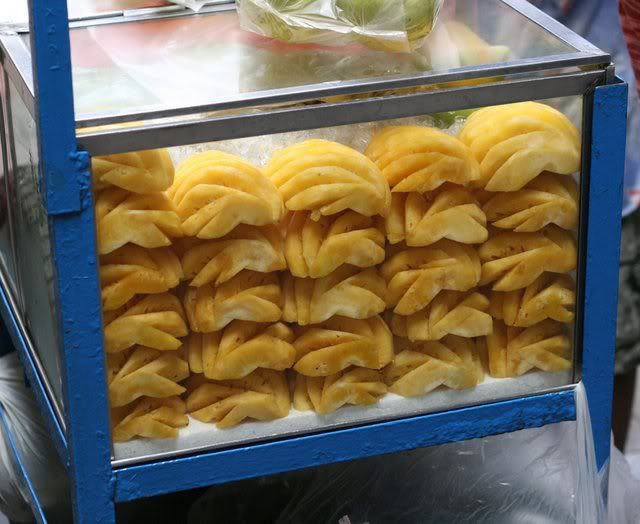 Finally, on the last night, being innately chinese, we headed to Chinatown for something to placate the mother tongue. Nothing quite like Chinese dialects spoken loudly to remind you of your roots. Of course, having said that, we are first and foremost Malaysian, and PROUD OF IT!!! So if there was nasi lemak by the roadside, we'd probably have made a beeline.

Anyway, we revisited a restaurant that exBangkok Lawyer had brought us when he resided in this exotic city, in Chinatown. They do serve the most wonderful soups, but in this day and age, it's highly politically incorrect to talk about such things. So there shall be things remain unsaid, unspoken, and unmentionable.

This oyster omelette, in my opinion, puts all the Penang ones (that Penangites seem so proud of, though I personally don't see any big deal in starch, egg and oyster) to shame, and boasts plump succulent almost aphrodisiacal oysters. Perhaps its in keeping with the theme of Bangkok, where aphrodisiacs are like popping candy.

Pad thai, or the chinese version of it, actually fried tong fun, was diabetes inducing. According to Unkaleong, Type II diabetes is no1 killer in Thailand, and judging by some of the dishes, I can see why.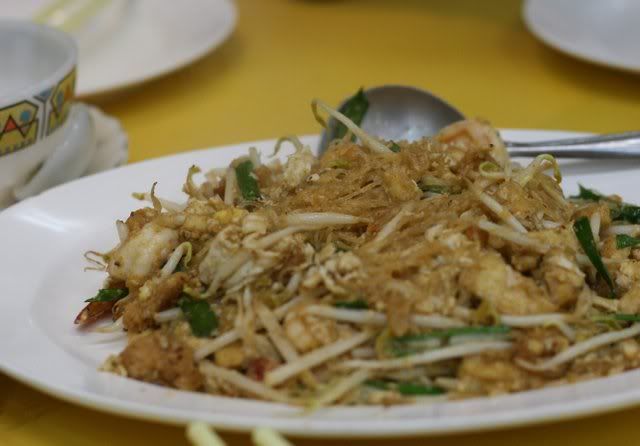 Plump juicy scallops at something like RM35 a plate.... such good value.




Actually, we enjoyed the Chinese meal so much, and raved so much about it so much so the other couple who missed out the night before insisted on going again, so we had two consecutive meals there. Oh, the restaurant name is Mei Loong/ Mei Lum. Just at the entrance of Chinatown.


The tom yam was served with much aplomb, flame tonguing out to the skies. Very poetic indeed, and I am sure had Hairy Berry been writing this, it would have turned into an Sonnet for Soup.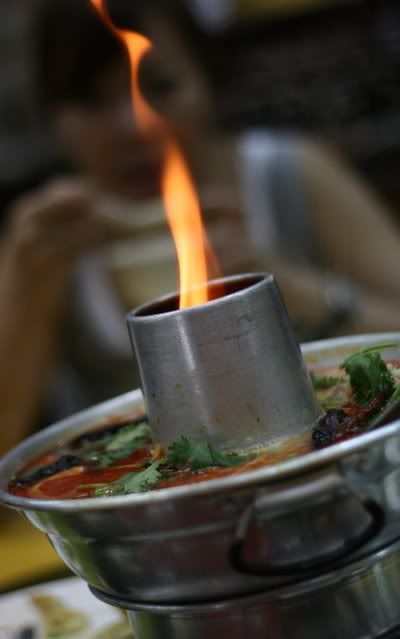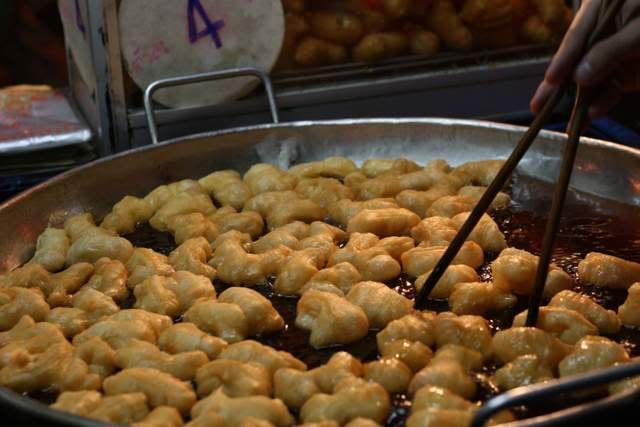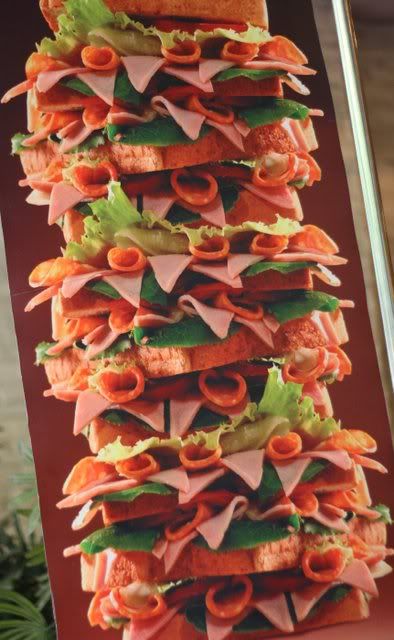 Wonder if these are the Subway Sandwiches Henry Yeo was alluding to in his comments in the previous post, about 60% filling and 40% bread.

Finally, nothing quite like them wonderful cold Singha beers. One for the road, just before boarding Air Asia flight. Hmm, could that be the cause of the incessant flatulence?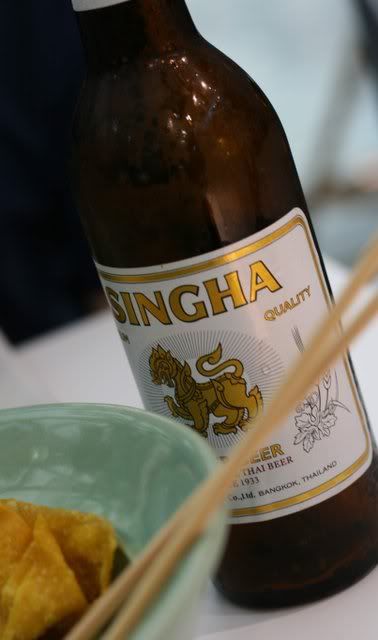 Bangkok, a HIGHLY recommended getaway for a reasonaly priced holiday. From glittering shopping malls to peasantlike street fare, cheap and clean massages, mind boggling array of international cuisine, without having to sacrifice an arm and a leg........

Truly, one night in Bangkok makes a hard man humble.