Since my favourite food blogger across the causeway SAYS a 7 day drought was too much to bear, I shall post this before my do my dutiful fatherly duties and bring the kids for the school holiday trip. One reason why I don't send them to private school, apart from the fact that it would drain me dry, is that I can bring them for cuti cuti Malaysia without them having to feel a holiday is incomplete without a boarding pass out of KLIA and a stamp on their passport. And Jet Lag.

So, when brother in law announced he & family was moving up to Ipoh to work, a whole host of bells went off in my head, like the clanging of a magnificent wedding, heralding the arrival of a king, a quaint european hamlet on Christmas morning.... in stark contrast to the alarm bells, which usually go off in my head after reading our morning papers, especially recently.

Ah, another holiday destination. Afterall, Ipoh IS the Guilin of Malaysia, and boasts splendid limestone outcrop, at least those that are still in tact and haven't been ground to cement to build Putrajaya. The food, oh the food!!! I personally prefer the clear soup of the Ipoh Kueh Teow to the MSG laden food in the renowned hawker haven in the Pearl of the Orient.

But oh dear, I digress. Anyway, I dedicate this cake to Lemongrass who as I type, is languishing in bed with the flu, and conveniently is unable to attend her conference tomorrow. May the virtual scent of the gorgeous combo of butter, yoghurt and lemon zest fill your nostrils, and nurse you back to health.

As usual, Tuesday night is dessert night for the family. My life is very ritual, and if I were a religion, I'd probably be Roman Catholicism. Structured, ritualistic, sometimes mindless, and unnecessarily bombastic. If I WERE a religion, not if I had a religion. Apologies in advance to the many RC's out there, its not meant to be derogatory.

On my way back from the office, several permutations were tossing in my mind, like a ship in the billowed seas. Walnut sour cream, Lemon Delicious, Lemon Sour Cream, ...... if I could earn money from an overly active daydreaming career, I would be filthy rich.

I finally settled on a Lemon Yoghurt Pistachio cake. Got the lemons and sour cream from Giant. Those items oridi cost RM8. How la to sell a cake like that!

It's kinda of an original plagiarised recipe, ie, tweaked from Australian Women's Weekly (I would buy Australian Men's Weekly if they had recipes, but they don't).

Ingredients:

250 gms butter
1 cup castor sugar

6 yolks

6 whites + ¼ cup sugar

2¼ cups flour + 1 tspn baking powder
250 gm yoghurt

zest and juice of 2 lemons. (small shrivelled ones, not large plump ones. Imagine a man swimming in icy cold water, something like that)

1 cup pistachios, chopped roughly. Or roughly chopped.

1. Cream butter and sugar, yada yada yada.
2. Add yolks one by one (Mixer on slow)
3. Add yoghurt
4. Add lemon juice and zest.....dont add all lemon juice at one go...adjust to taste
5. Add in flour in two batches
6. Whisk egg whites & sugar until soft peaks, no stiffies.
7. Fold in egg white taking care to lose as little air as possible, as opposed to when farting, when you really want to try to lose as MUCH air as possible.
8. Stir in nuts.
9. Bake in 8" round tin, lined at the bottom, in 180C oven, for 1 hour 15 minutes.

For the lemon cream, I simply whacked
1. 80gm cream cheese
2. 1/2 cup of whipping cream
3. leftover lemon juice
4. sugar to taste.

Beat all together in mixer, with balloon whisk. You should get a lovely creamy lemony tangy curd.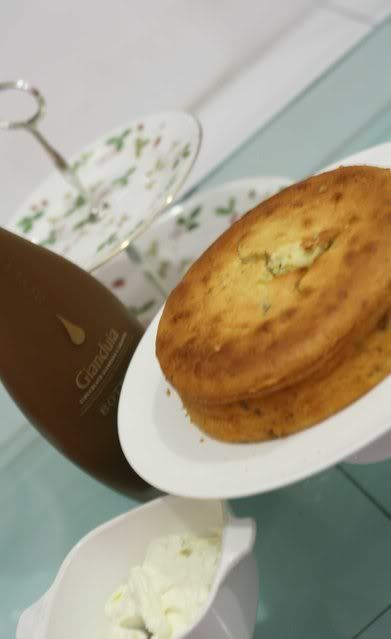 Verdict: I am pretty pleased with my tweaking. The cake was tangy, the pistachios gave it a nice crunch, and the lemon cream gave it that sinful finish that cakes should have. We all unanimously agreed on the table it was pointless to eat a lemon chiffon cake. POINTLESS you hear.

Well, I will be away in Ipoh, God knows if they have internet there, but if not, I'll see yall Saturday. And Queen DSLR, do get well soon ya.