Modelled after cafe of same name in famous classic, Casablanca, which 95% of the young people at the table had never heard of, probably, this cozy place is located in One Bangsar, that enclave of upmarket restaurants that I rarely ever visit.
So, when Nigel of Just Heavenly sent out the mailer asking us if we wanted to try out this place, my curiosity was kinda piqued. Of all nights, I was swamped with baking orders, so was very late in arriving, probably the last, but fortunately it was arranged such that starters were common, and had been preordered, and we only picked our mains.
Which then actually meant my timing was impeccable, coz shortly after arriving, it was time to eat.
I always love pate, and this chicken liver pate is no exception. Velvety and smooth, also with a high marginal utility as hunger pangs were at its peak, this was complemented with candied orange peel.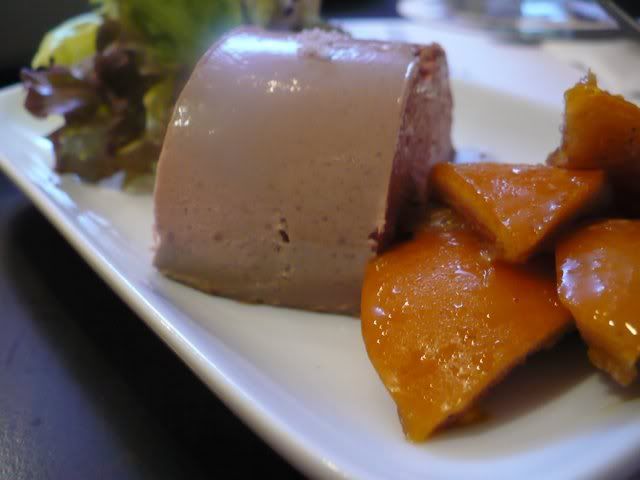 Deep fried calamari, or squid, which was nice and crispy. Oh, I should mention that YET again, I ended up sitting with Teckiee and Nipples, making it the 3rd time already out of like 4 flogger outings for me. Sandias, 888 and here. Creating quite a bond there.
These baked garlic heads..... very nice, coz you cant really tell that its in your face garlic.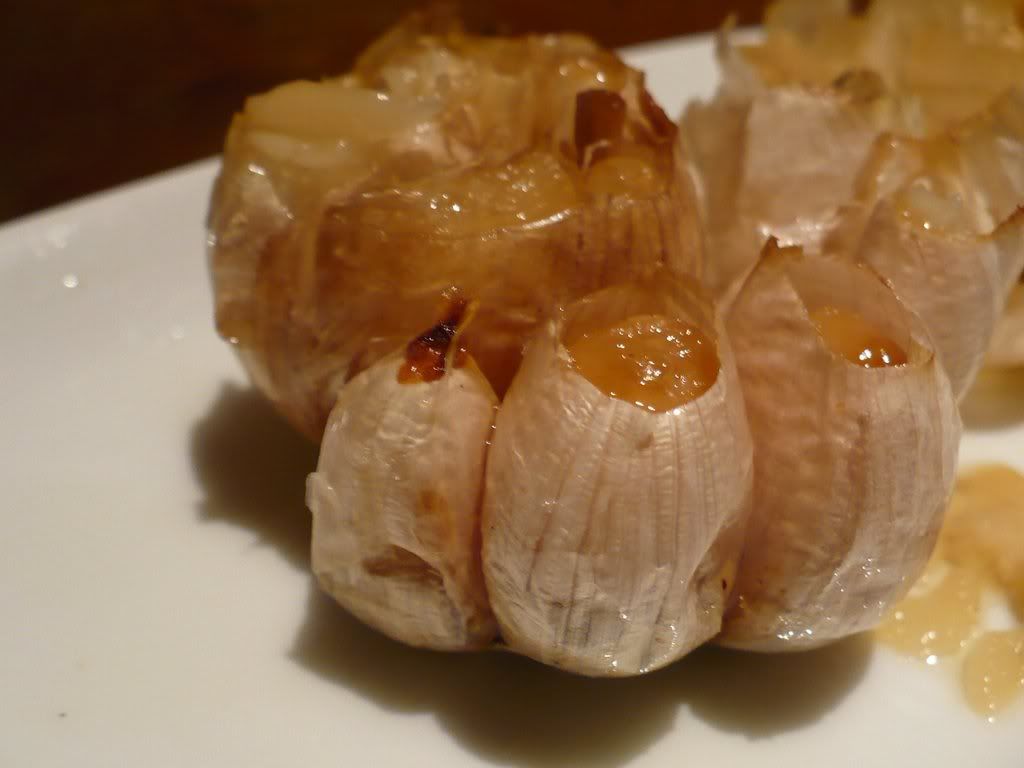 The salmon bruschetta kinda thing, that I didnt really care much for.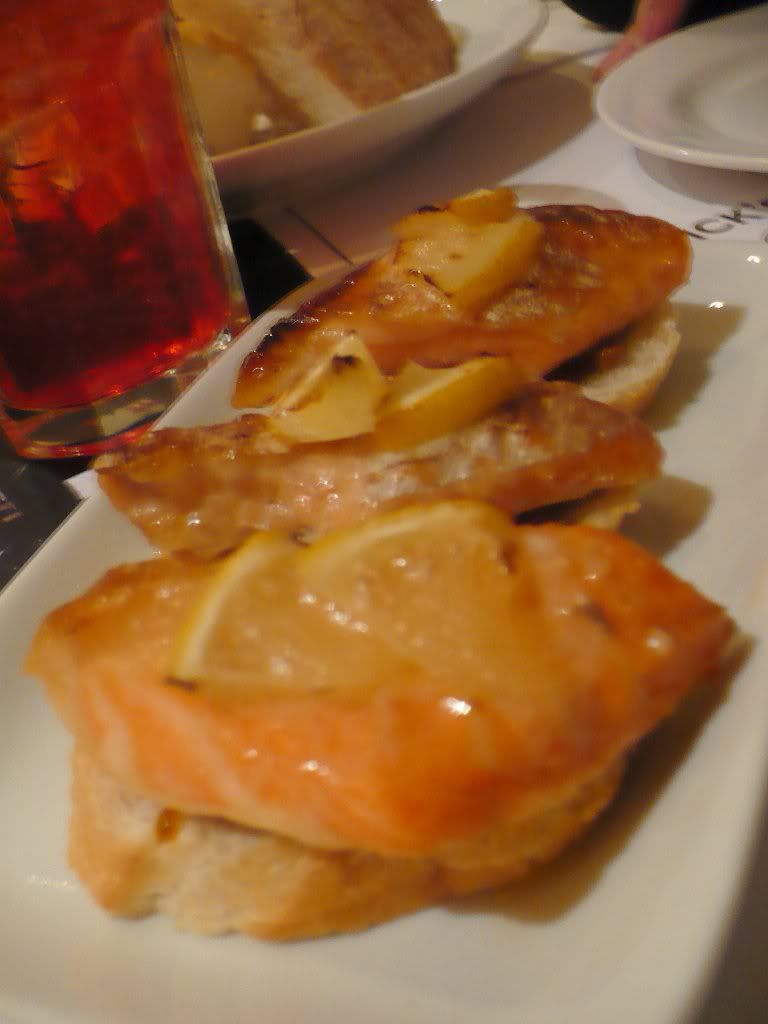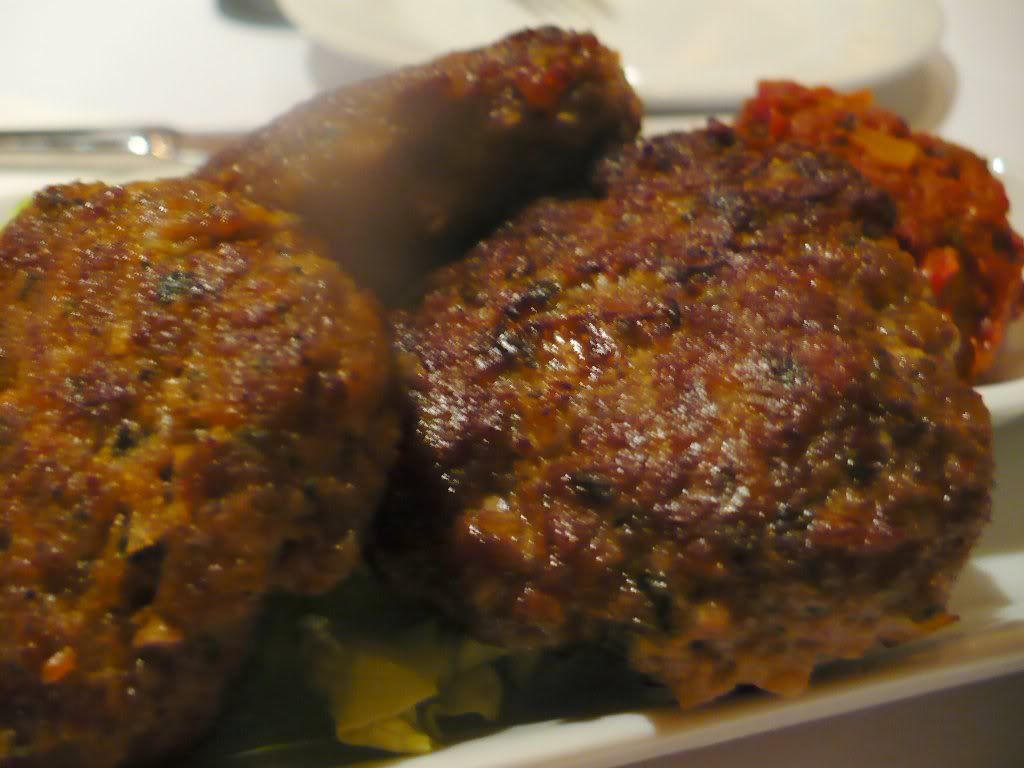 Oh dear, my memory is getting so bad, anything past 3 days becomes a distant haze. What is that thing above? I think it was some lamb ball, (as in, lamb meat molded into balls, not lamb balls balls per se, unlike at the beef noodle place) thingie.

I opted for the venison pie, mainly because everyone else on the table had already ordered all the recommended stuff, and I had to do by flogger duty by ordering something different so that our menagerie of dead animals was complete. Virtually all the edible species, but for Porky, were represented. Deer, Cow, Fish, Chicken, Cheese, (oh, hangon, that's not an animal), Lamb, Squid. So, all the national geographic photojournalist were having a field day with the various wild life that was on the plates. Moving plates to where the lighting was better, perching them precariously on the edge of the chair so that it posed under the down lights. Rather amusing lot to watch.
Now, this dish above, the sirloin, which nipples ordered, was really good. He kindly gave me a sliver in exchange for some venison, upon which he declared, the way kids compare their toys, "mine is better". I have to agree though. His WAS better.
Teckiee's Saba Mackerel was also quite good.
Because Lemongrass's fish was fishy, she and boo sent theirs back (as in their fish) in exchange for this grouyere souffle, an exceedingly artery clogging dish comprising cheese and mushroom. Truth be told, the taste was superb, but there is NO way I personally can finish one of these as a main course. Ideal to be shared as a starter.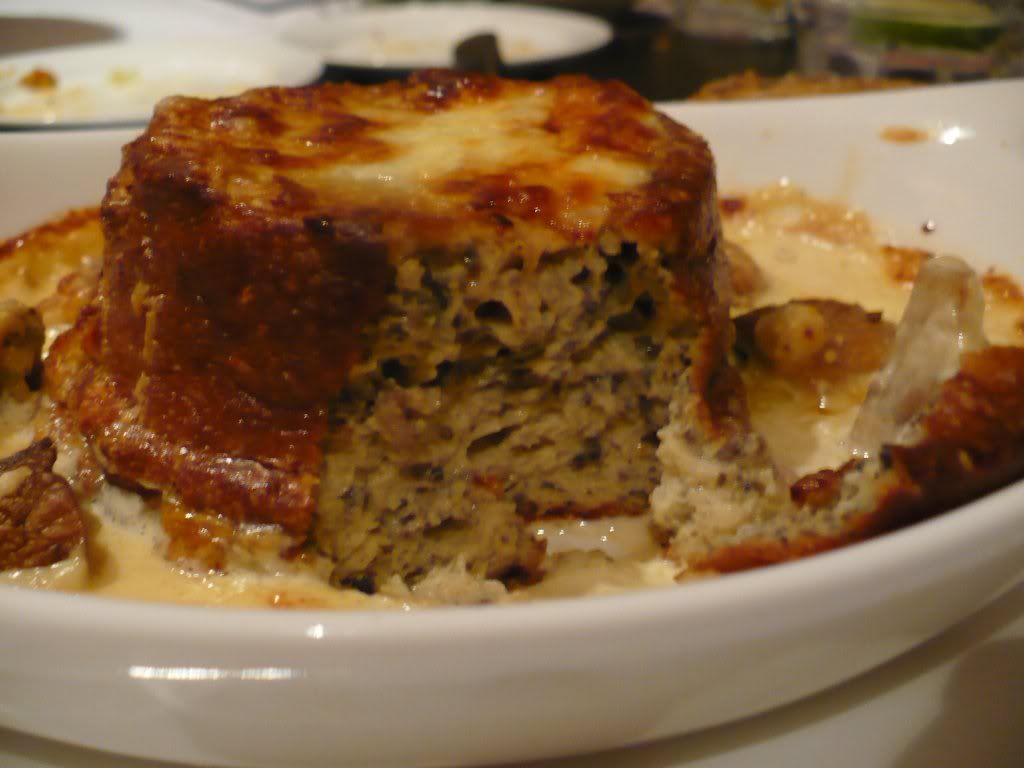 Here we have our famous blogger, who's photo appeared in the Star a couple of weeks in its full glory, yet here, she is taking the stance of a demure, shy lass who is shockingly afraid of the camera. She is using her new toy, given by her dear husband, as a shield. Quite the mystery woman aint she. If you want to see what she looks like just check out
this
article. Lehhh cek mek molek, malu malu la kononya.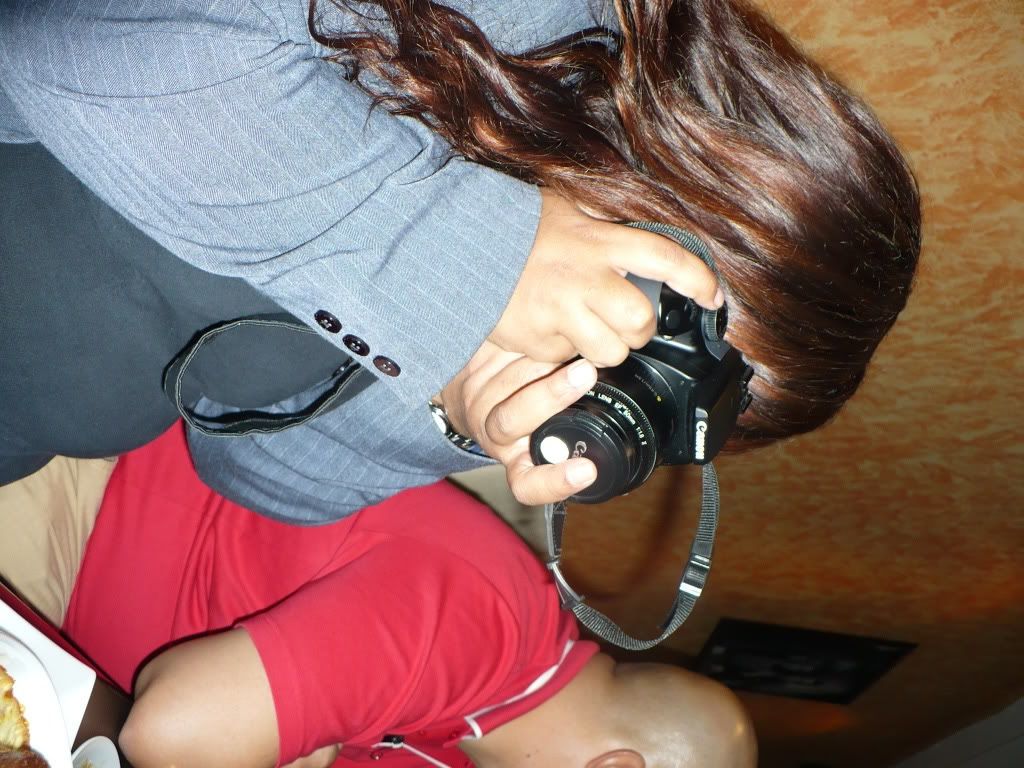 Someone ordered chicken pie.

And Living in Food Heaven, (are Food Heaven and Just Heavenly in the Heavenlies? I get so confused) had the chicken with something something sauce.

And our favourite time of all, dessert.

Chef Tim, who hails from New Zealand (and has that very distinct Kiwi accent to show for it), introduced us to his repertoire of desserts.

The banana souffle. I am always intrigued by souffles, and how one can trap so much hot air within to make it rise. The souffle was nice and light, and went well with the chocolate ice cream, or was it sorbet.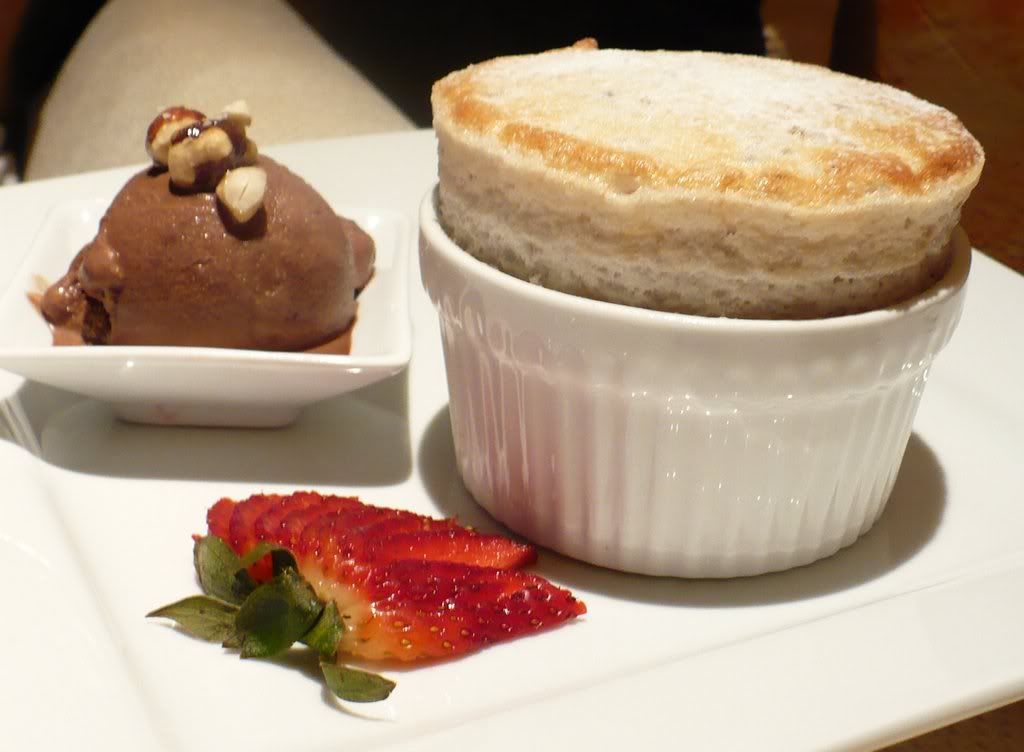 The coffee creme brulee was nice as well. I simply MUST get myself a blowtorch, for Nigella says there is something curiously satisfying about wielding a blow torch. Ah, the power to caramelise!!!! It's like using a light saber against Kylie Kwong.

Master bakers, (who introduced me to a new term, "Toss Your Salad". Nigel says he "tosses his salad with his hands") brought this lovely dessert for us. A red chocolate velvet cake with cream cream cheese. Not a typo. Cream cream cheese. Almost mascar- PORN-ish, but the cake, so gloriously red and light. Red light. Hmm, okay, okay, mind out of the gutter.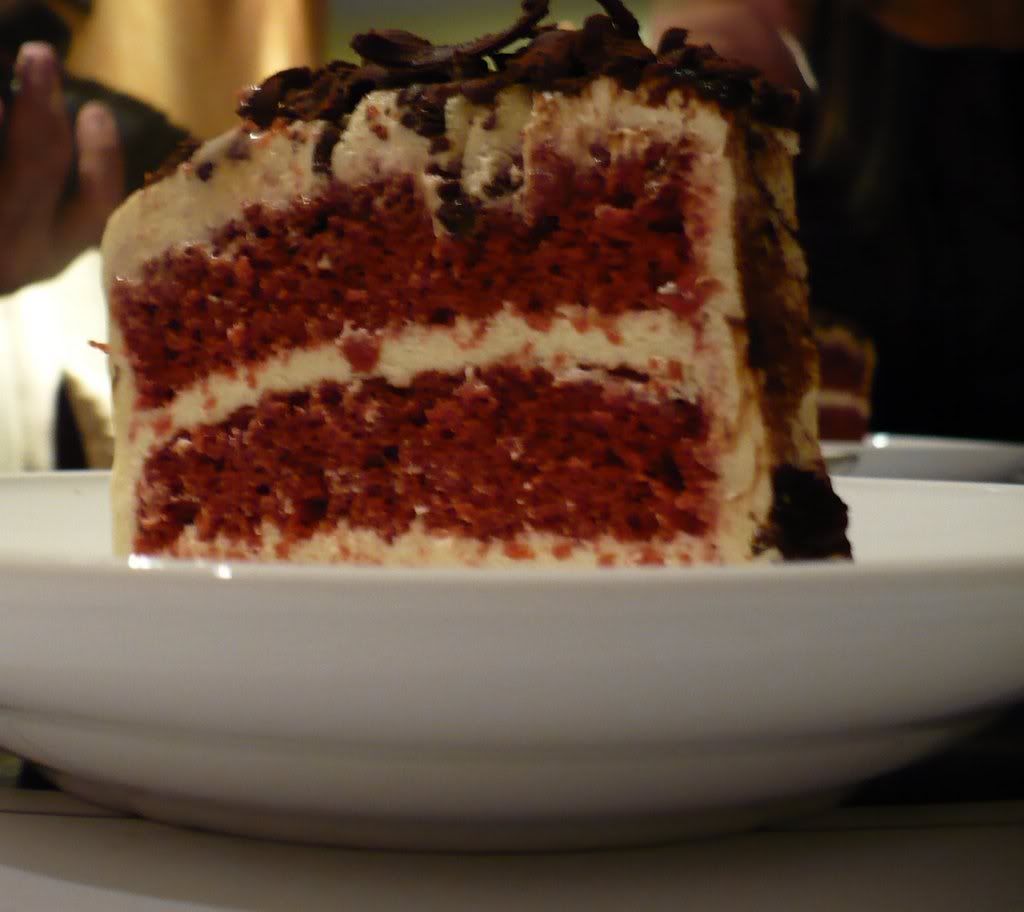 Blue cheese ice cream. Not for the faint hearted, but if you love blue cheese, this will make you ..... eerrr......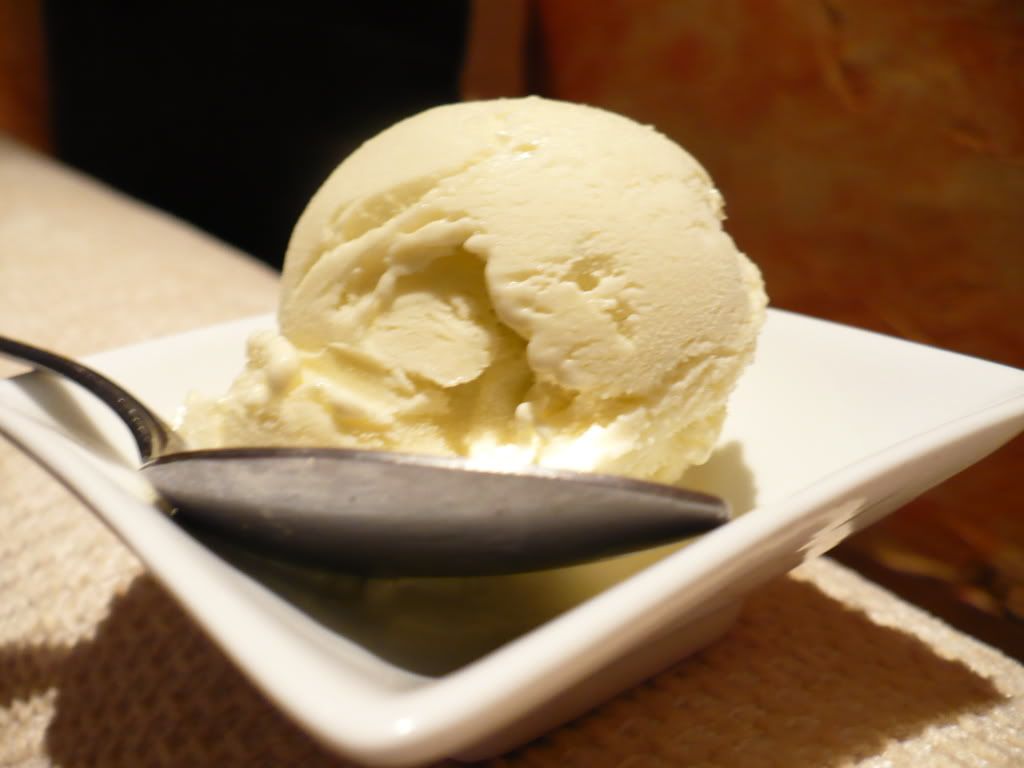 Overall a most pleasant dining experience, marred only by the sms-es I was getting from a friend in Shanghai, who was having a wonderful dinner there, and giving me a live commentary:
"Food here is tantalizingly good. Foie gras brulee with pistachio, sour cherries and consomme jelly....Sublime, lobster tartine with exquisite fenugreek broth, frogs legs with a surprisingly refreshing garlic soup, but crusted cod with citrus confit and roy. Just had the most humbling experience with lamb main course. Sweet, delicate and absolutely delicious.....".

SHEEEEEEEEESHHHHHHHHHHH!!!!! Ya sweetie, my venison pie was humbling too.